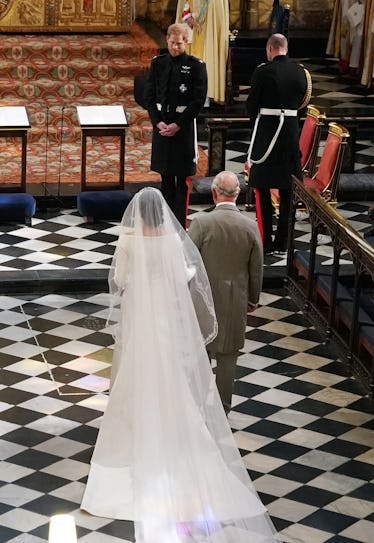 Prince Charles Said He Was "Very Pleased" To Walk Meghan Markle Down The Aisle
WPA Pool/Getty Images Entertainment/Getty Images
I don't know about you guys, but man, this royal wedding is really tugging on my heartstrings. As the days to Prince Harry and Meghan Markle's big day have winded down, there's been a lot to take in — whether it was the super emotional meaning behind Markle's ring or Harry's heartwarming comments about his bride. In the latest turn of events, though, it's Prince Charles' response to walking Meghan Markle down the aisle that's the real tear-jearker.
According to People, on May 19, Prince Charles shared some heartfelt words in honor of the royal couple at their wedding reception — which was hosted by Queen Elizabeth at St. George's Hall at Windsor Castle — just moments after he walked Markle down the aisle. One of the guests who attended the gathering told the publication, "Prince Charles said he was very pleased to be asked [to walk Meghan down the aisle] and happy to help out."
Overall, the insider said, "Charles gave a brilliant speech," adding, "Harry was very emotional." And as for Markle's reaction to Charles walking her down the aisle, a royal source previously told the outlet it was a dream come true for the former Suits actress. "It was Meghan's wish and she is grateful for the Prince of Wales to be doing it," the insider stated.
IDK if I've ever seen someone fit in with their partner's family so perfectly. I'm so happy for these two, y'all! I can't even begin to explain it.
In recent days, there's been quite a bit of back-and-forth over who would actually walk Markle down the aisle, but on Friday, May 18, the Kensington Palace officially announced that Charles would be escorting her. Meghan originally planned on having her father, Thomas Markle, do the honor, however, the plans apparently went south after he was blasted by The Daily Mail for staging photos that showed him preparing for the wedding for profit. On top of that, he also reportedly suffered a heart attack just days before the wedding.
Following Thomas' health scare, Markle announced via the Kensington Palace that he'd unfortunately be missing out on her wedding altogether to focus on getting better. The statement read:
Sadly, my father will not be attending our wedding. I have always cared for my father and hope he can be given the space he needs to focus on his health. I would like to thank everyone who has offered generous messages of support. Please know how much Harry and I look forward to sharing our special with you on Saturday.
And as far as her father's photo scandal goes, there doesn't appear to be any tension between the two, as Thomas explained to TMZ on May 14 that he only posed for the photos due to mounting pressure from the media. The outlet reported that "he meant no harm to Meghan or the Royal Family when he made a deal to allow a photo agency to take pics of him getting ready for the wedding."
Although Markle's father couldn't make it to the ceremony, he sent her all his love and blessings on her big day. According to TMZ, Thomas said, "My baby looks beautiful and she looks very happy. I wish I were there and I wish them all my love and happiness." He reportedly said that watching the ceremony was "emotional and joyful."
Even though Thomas wasn't able to make it, it's probably really refreshing and heartwarming to know that she was walked down the aisle by someone who adores her just as equally. That kind of stuff is priceless.