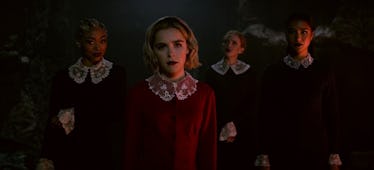 Sabrina's White Hair In 'Chilling Adventures Of Sabrina' Is Low-Key Iconic For This Reason
Netflix
The aesthetic of Netflix's Chilling Adventures of Sabrina is perennially autumnal and vintage, combining a mood for gloom and doom with the '50s-esque style of small-town America. While Sabrina's shoulder-length bob has become legendary in its own way, her makeover after signing herself away to the Dark Lord has even more significance for fans of the original Chilling Adventures stories. Sabrina's white hair in Chilling Adventures of Sabrina is super iconic, and besides being stylish, the new look is also a throwback to the show's origins.
While Melissa Joan Hart's sunnier Sabrina in Sabrina the Teenage Witch was the epitome of cringe-tastic '90s hairstyles, Kiernan Shipka's Sabrina Spellman stayed constant with her look throughout the season. A solid-colored sweater or shirt-and-skirt combo was typical in her wardrobe, solidifying Sabrina's classic and sensible sense of style. If you ever have a 1950s costume party to attend, look no further than Sabrina's clothing for inspiration, but unless you want to recreate her new look, imitating her white hair has serious implications.
In the season finale, Sabrina seemingly signed the Dark Lord's Book of the Beast to save Greendale from the Red Angel of Death. She then had the power to summon hellfire and rid the town of the witching hour's dangers. When she met Harvey afterwards, Sabrina debuted a pure white hair color that apparently came from her interaction with the fire. It was also undoubtedly a symbol of her embracing the dark magic inside her.
While the color change makes sense within the plot, it's actually a nod to the original Chilling Adventures of Sabrina comics. Series creator Roberto Aguirre-Sacasa, who also penned the corresponding comic books, told Entertainment Tonight:
That platinum white hair is iconic from the comic books. Sabrina is actually not blonde, she has white hair in the comics. And I remember when we first talked about it when it was in the first script, everyone was like, 'Wait a minute, we have to see how this looks.' So we took a picture of Kiernan with her white hair and sent it in and everyone lost their minds. They were like, 'Never go back to the blonde!' I love the blonde, but the white hair is iconic and she's still got her headband.
Sure enough, the images of Sabrina that are splashed across the covers of the comic series match that of Sabrina's new 'do. Aguirre-Sacasa even revealed on Twitter that the title pages of certain episodes' scripts include illustrations showing Sabrina with white hair.
While Aguirre-Sacasa hasn't explained exactly why the creative team decided to make Sabrina a natural blonde, the decision was likely made to help the character blend in with the slightly rural setting of Greendale. However, the first season of Chilling Adventures of Sabrina closed with Sabrina rocking her edgier style alongside the Weird Sisters at the Academy of Unseen Arts. Ross Lynch, who plays Sabrina's high school sweetheart Harvey Kinkle, promised ET that Season 2 will see Sabrina drifting from her mortal friends. With that change, it looks like we can expect Sabrina to embrace a more magical look next season, no pun intended. R.I.P, blonde hair.
Season 1 of Chilling Adventures of Sabrina is currently streaming on Netflix.