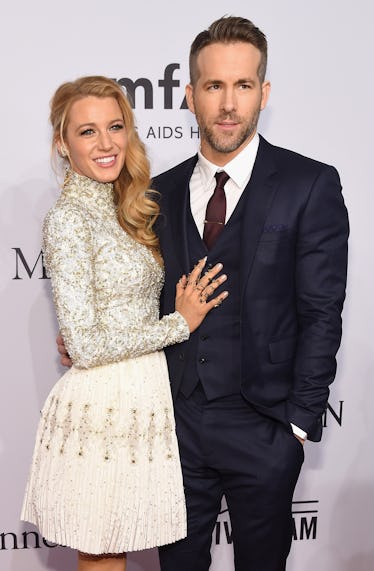 Ryan Reynolds Even Trolled Blake Lively With Divorce Jokes In His Out-Of-Office Email
Michael Loccisano/Getty Images Entertainment/Getty Images
Ryan Reynolds and Blake Lively have been married for six years, but they never seem to tire of trolling each other. The lovely couple is as famous for their trolling antics as they are for their acting. And honestly, it doesn't seem like they'll be slowing down any time soon. In fact, Ryan Reynolds trolled Blake Lively with divorce jokes via his out-of-office email. That's how involved those two get when it comes to giving each other a laugh.
Back in August, Reynolds revealed his company email address (ryan@aviationgin.com) to the world and has been getting loads of emails ever since. Reynolds is combatting this problem by setting up out-of-office replies designed to give the reader a giggle. Reynolds owns Aviation Gin, by the way, so he's totally able to share his email address and troll fans whenever he wants.
This week, fans who email Reynolds will receive his weekly schedule, which includes ridiculous tasks like "find out why they're called Toronto Maple Leafs and not leaves" and "watch Paddington 2 for the 100th time."
A closer look at the bonkers schedule reveals that much of what's on his to-do list is actually an effort to troll his wife. Among the first things on the list is a screening of her movie A Simple Favor at the Museum of Modern Art in New York. In his notes, he writes "No divorce jokes!!"
The very next item, however, says, "Sneak out of MOMA screening to regroup. It can't all be about you. This is her moment. Get it together, a**hole."
So, Reynolds is most definitely trying to get a rise out of his wife. I doubt she's even bothered by it, though, because she's also a master at trolling her husband.
This is what fans will get in their inboxes when they email Reynolds at ryan@aviationgin.com:
I'm LOL-ing at Reynolds assuming Lively will ditch his Saturday date-night plans, leaving him to watch Paddington 2 alone. Brutal.
Reynolds took his brand of comedy to Twitter to explain what fans should be getting rather than what they actually are getting in response to emails.
The Aviation Gin Twitter account responded to him with a reaction gif ...of himself:
It's all so meta, I don't even know how to process it fully. But, as you probably know by now, Reynolds isn't the only jokester in the family. Lively is, too.
Lively recently taunted Reynolds on social media while they were out celebrating their wedding anniversary. During their outing, the couple spotted a truck with an ad for Aviation Gin, which featured a huge image of Reynolds right on it.
Reynolds shared the photo on Instagram and Lively took to the comments to share her thoughts on it.
"Who needs a mini van?! I'm driving this from now on," the actress wrote. "Subtle, gorgeous, and OHMYGAWDYOUREHUGE."
Clearly, she's got the hots for her hubby no matter which form he takes. But it's still hilarious all the same!
In any case, Reynolds and Lively obviously have a lot of love for each other and they seem to enjoy sharing that with everyone. At the very least, they make lots of people laugh, which is amazing.