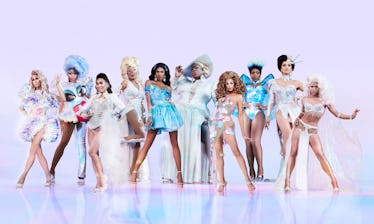 Here's Why Everyone Should Watch 'RuPaul's Drag Race All Stars 4,' According To Peppermint
VH1
Look out world, there's a new season of show-stopping queens vying for the ultimate crown – a spot in the Drag Race Hall Of Fame. VH1 recently announced RuPaul's Drag Race All Stars 4 will return before the new year on Friday, Dec. 14. Like other All Stars seasons, RuPaul has invited the worthiest queens from past seasons back to the competition for a chance to snatch the coveted All Stars 4 crown. The crowned queen will join Chad Michaels, Alaska, and Trixie Mattel in the Hall Of Fame. They will also walk away with a cash prize of $100,000 and a one-year supply of Anastasia Beverly Hills cosmetics.
Competing for this season's title are fan-favorites from Drag Race Season 10, Monét X Change and Monique Heart, as well as legendary performers from earlier seasons, like Manila Luzon and Latrice Royale. Luzon and Royale are the only two queens to ever compete in two seasons of All Stars, making their joint All Stars debut back in 2012 as #TeamLatrila.
Also joining the cast of All Stars 4 are Valentina, Naomi Smalls, Gia Gunn, Farrah Moan, Jasmine Masters, and Trinity 'The Tuck' Taylor.
Although she won't be appearing on All Stars 4, Season 9 queen (and Broadway star!) Peppermint explains to Elite Daily why everyone should tune in this season. "Drag is universal. It plays on gender, which everyone has a relationship to, it's entertainment, and it's in your face and colorful," she says. "Those are things that most people are attracted to anyway, so Drag Race is all of that in the perfect dose every week, every episode, and it's kind of addicting. It's so great to see queens rise up, and get to know each girl every season, their own individual personalities."
Peppermint continues, detailing what she thinks the future of Drag Race could look like. "I think Drag Race finally may have risen to a level that everyone's able to see – it's like how New York City has really tall buildings, so you gotta wait for a balloon to get way, way, way over the top for everyone to see it, but it's been rising the whole time. This show is now what it has always been. It's always been great, it has always been really of the now. They've used different filters over the years, but for the most part it's always been the same great product. I think it always will be, as long as it too–meaning the show–updates and stays with the times, and I think that they will."
It's no secret that RuPaul's Drag Race's production budget has dramatically increased over the years. Taking that into consideration, along with its move to VH1 and recent Emmy win, this season is bound to be the show's best. I can't wait to see the gag-worthy looks these queens turn on the Drag Race runway, and who's portrait will end up hanging in the Hall Of Fame.
Tune in to the season premiere Friday, Dec. 14 at 8 p.m. ET on VH1.