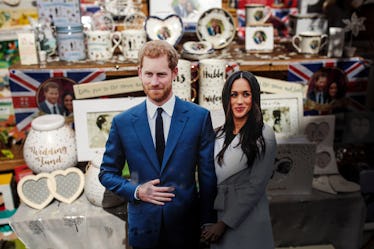 You Can Now Buy Royal Wedding Condoms & It's Hilarious
Jack Taylor/Getty Images Entertainment/Getty Images
It seems like everyone is feeling the effects of royal wedding fever as the May 19 nuptials are just a few short days away — but no place in the world is getting as hyped as Britain. If you go to the town of Windsor, you'll see streets adorned with British flags, flags that have Meghan Markle and Prince Harry's face printed on them, and countless shops filled with assorted royal wedding products. But today, May 14, just five days ahead of the royal nuptials, I've come across the best royal wedding souvenir money can buy: Royal wedding condoms are now available, and they're honestly too good to be true.
This souvenir idea might sound a bit extreme, to say the least, but I'm most definitely glad that they've found their way into my life. The commemorative condom packs are made by the British company Crown Jewels, and each detail about the souvenir that I discover is better (and more hilarious) than the last.
The front of the box features a portrait of the future newlyweds, embossed with both British and American flags on either side of the couple. The pack contains four condoms "fit for a prince" inside and boasts that their condoms are, "the only condoms in the world to play an exclusive arrangement of 'God Save The Queen' & 'The Star Spangled Banner'" — which, I don't know about you, is just absolutely amazing.
If you thought these condoms couldn't get any better, you're wrong. The back of the box goes into even greater detail about the souvenir. The hilarious description reads,
Crown Jewels of London, pre-eminent purveyors of heritage prophylactics, is proud to celebrate the union of HRH Prince Henry of Wales and Ms. Rachel Meghan Markle with a condom of regal luxury. These artisan-style sheaths promise an unparalleled love-making experience. Tailored for a princely fit and drizzled with lube, they are the perfect accompaniment to a night of intimate pleasure.
When you open the box, a larger version of the featured portraits pops up and the words "Your Prince Will Come" is written in a fairytale cursive font are printed on the front. So basically, whoever came up with the idea for this is a certified comedic genius.
You can purchase the condom pack for £10 (or three for £20, if you're looking to buy multiples), which roughly comes out to $14 USD per box. And an important note about the product is that it's explicitly stated on the back of the box that these condoms are NOT intended for use as a contraceptive. So if you had an inkling that this is a total gag gift, you, my friend, are correct. With that said, this souvenir is still absolutely hilarious, and I just may be considering ordering a box for myself. Maybe.
The royal wedding hype is definitely real, folks. The main event is five days away and I personally cannot contain my excitement. Ever since news broke over the Thanksgiving holiday in 2017 that Markle and Prince Harry were engaged after a little over a year of dating, the hype surrounding this historic event has only gotten greater. It's a particularly historic royal wedding because not only is a non-Brit marrying a member of the royal family — but an American! We've seen the marriage of royals and non-royals before (i.e., Prince William and Kate Middleton back in 2011), but never a foreigner in terms of England's monarchy. Markle is also a bi-racial woman of color, which is significant because virtually all of the living British royals are white. So Markle's entrance into the royal family modernizes the British monarchy and adds an air of equal representation that wasn't present before.
So what better way to commemorate this momentous occasion than picking up a box of Meghan & Harry condoms, am I right?