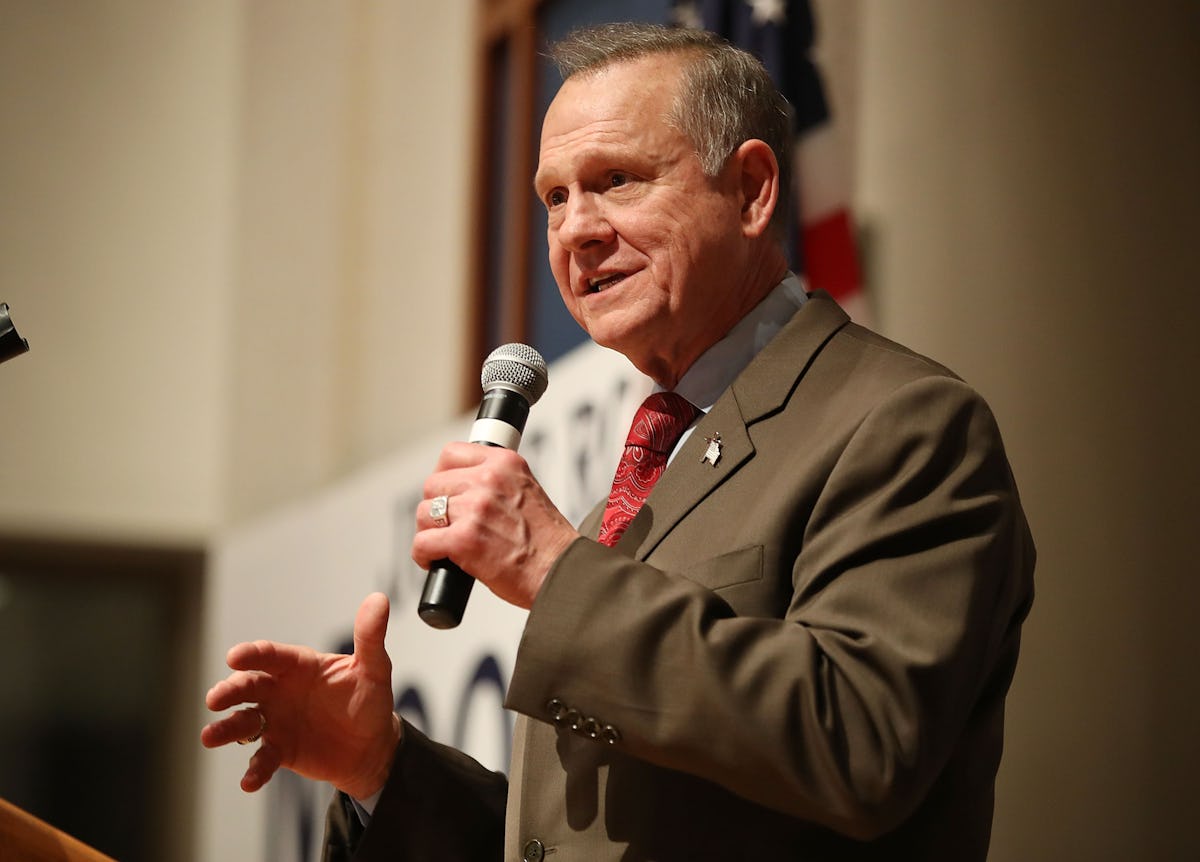 Roy Moore Still Hasn't Admitted Defeat In Alabama Senate Race, So That's Awkward
Joe Raedle/Getty Images News/Getty Images
On Wednesday, Dec. 13, candidate Roy Moore's response to the Alabama Senate race, which he lost a day before, did not features a concession of defeat. Instead, Moore insisted that the race between him and the Democratic victor, Doug Jones, is not over. In a video message, Moore said, "In this race, we have not received the final count to include military and provisional ballots. This has been a very close race and we are awaiting certification by the Secretary of State."
The secretary of state for Alabama is John Merrill, a Republican who voted for Moore but nonetheless confirmed that the Alabama election is over after results came in on Tuesday night.
"The people of Alabama have spoken tonight," Merrill told CNN. "They've made their voice heard loud and clear. The most important thing to remember now is the process needs to be followed to ensure that the integrity, the safety and security of the election is preserved."
Merrill also batted down any suggestion that foul play was at hand. "One of the things that is obviously recognized by using the equipment that we use in the elections process is that there's not a whole lot of mistakes that are made," Merrill told CNN's Jake Tapper.
Still, on Wednesday night, Moore insisted that the electoral process in Alabama was "tainted."
"Even our political process has been affected with baseless and false allegations which have become more relevant than the issues which -affect our country," Moore said in the video. "This election was tainted by over $50 million dollars from outside groups who want to retain power and -their -corrupt ideology."
Moore's denial on Wednesday night was a mere continuation of the rhetoric he used on Tuesday night, after the Associated Press, among other news organizations, called the election in favor of Jones. Through his denial, he has continued to share many of the same messages that he did throughout his campaign, arguing that he is fighting a "struggle" for humanity.
"We are indeed in a struggle to preserve our republic, our civilization, and our religion and to set free a suffering humanity," Moore said in the video. "Today we no longer recognize the universal truth that God is the author of our life and liberty. Abortion, sodomy, and materialism have taken the place of life, liberty, and the pursuit of happiness."
Even before Moore's video was released, however, his opponent had been calling on him to concede defeat. "It's time to move on. Every race is tough. It's bitter sometimes. I think this one was one that the people of Alabama have now spoken a little bit, and they decided to heal." Jones said during a Wednesday morning appearance on NBC's Today show.
After imploring his opponent to admit that he loss, Jones also said he'd be prepared to work with President Donald Trump, who called the Democrat to congratulate him on the Senate win.
"If the president has things on his agenda that I think are good for the people of Alabama, then I'm absolutely going to work there with him," Jones told Today.
President Trump also congratulated Jones via Twitter, saying, "Congratulations to Doug Jones on a hard fought victory. The write-in votes played a very big factor, but a win is a win. The people of Alabama are great, and the Republicans will have another shot at this seat in a very short period of time. It never ends!"
Still, despite the fact that the leader of his party has moved on from the election, Roy Moore still has not. Meanwhile, Jones will look forward to going to work in Washington, D.C.