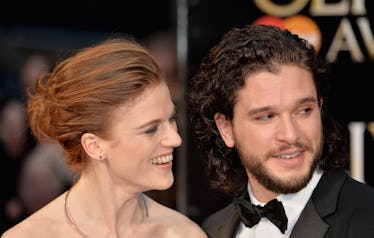 Rose Leslie & Kit Harrington Confirmed Their Wedding Date & It's So Soon
Anthony Harvey/Getty Images Entertainment/Getty Images
My favorite on and off-screen couple from Game of Thrones is getting their "happily ever after" IRL way sooner than expected. Rose Leslie and Kit Harrington's wedding date is fast approaching, and I'm living for how soon I can see the actors, who play Ygritte and Jon Snow in the series, tie the knot. If you're still coming down from the aftermath of the royal wedding, prepare to get back into wedding fever with the King of the North's highly-anticipated nuptials coming up in less than a month.
Yep, Kit Harrington, aka Aegon Targaryen, and Rose Leslie have set the date, and they will be making things official as early as June 23, the BBC reports. While we all know that Jon Snow is currently dating his aunt, Daenerys Targaryen, (ugh) on the show, I think we all can't help wishing for a simpler time when he was romancing the red-haired wildling, Ygritte. When the co-stars first met back in 2012, the chemistry was palpable and they quickly sparked rumors of an off-screen relationship. And although Ygritte was killed off during the series and Jon Snow moved on to the Mother of Dragons, the pair continued their romance IRL and became engaged in September 2017. Now the BBC is reporting that the couple will be tying the knot at the end of June, and the nuptials are happening in a super romantic Scottish castle. Prince Harry and Meghan Markle who? That wedding is old news, my friends.
According to the report, a June 23 wedding date has been confirmed by the Huntly registration office in Aberdeenshire, Scotland. Leslie, who is Scottish, reportedly has a castle there that's owned by her dad, councillor Seb Leslie. No big deal.
Something tells me that the confirmation of their venue and wedding date is going to make it even harder for the pair to keep their loyal GOT fanbase from showing up uninvited on the big day. While the Daily Mail reported that Leslie and Harrington have been trying to keep details of the wedding under wraps, they haven't been doing too solid of a job so far, to be honest.
First, they sent out 200 top secret invitations in the mail, which could have totally flown incognito, except for the fact that each invitation features a postal stamp with Jon Snow's face on it.
And, if that wasn't enough of a giveaway, we now know when and where Leslie and Harrington will exchange their vows. While Jon Snow might know nothing about keeping his big day under wraps, he apparently knew that Ygritte, aka Leslie, was the one pretty quickly.
In a May interview with L'Uomo Vogue, Harrington said that the weeks spent shooting Game of Thrones in Iceland were his favorite because of a totally swoon-worthy reason. He said about filming Season 2 with Leslie, "Because the country is beautiful, because the Northern Lights are magical, and because it was there that I fell in love. If you're already attracted to someone, and then they play your love interest in the show, it becomes very easy to fall in love." Aw!
Plus, it sounds like Harrington knows a thing or two about romance. While he admitted to jumping the gun during his proposal, the whole thing still sounds like it was completely perfect. Plus who can forget that stunning engagement ring?
On an October 7, 2017 episode of the Jonathan Ross Show, the actor revealed, "I did have some plans to do it, I was going to string up some lights in some trees and do all the romantic stuff, but we were in the country and we were under this beautiful night sky and had a log fire burning and red wine and I blew my load early."
Laughing, he clarified, "Sorry that's a really bad expression. I was meant to [propose] the day after with the lights. What I meant to say was, I popped my question a bit early."
Can you blame him for wanting to start his "forever" with Leslie ASAP? Now that the date is finally set, let the wedding countdown officially begin.