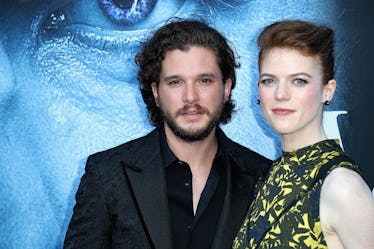 There's A Subtle Tribute To 'GOT' On Kit Harington & Rose Leslie's Wedding Invites
Frederick M. Brown/Getty Images Entertainment/Getty Images
Ever thought about what it would be like to be on a popular television show and then decide to marry your co-star? Well, I have. And apparently for Game of Thrones stars Kit Harington and Rose Leslie, it means keeping how you met in the wedding fold. Kit Harington and Rose Leslie's wedding invitations have a subtle nod to Game of Thrones, and it's pretty awesome.
The former Game of Thrones co-stars met on the set of the popular HBO series back in 2012 when Leslie had a three-season stint on the show as the wildling Ygritte, before taking their romance off-screen and getting engaged in September 2017. With the huge and loyal fanbase that GOT has, the couple is very worried that fans will show up to the big day. So, they have asked all guests to keep the details under wraps. A source told The Daily Mail, "They organised the wedding quickly because they didn't want information to leak." Well, they might have messed that up. Because according to The Daily Mail, the 200 invitations to Harington and Leslie's upcoming nuptials were all sent out using a postal stamp with Jon Snow's face on it, and no I am not making that up.
You know nothing, Jon Snow... about keeping a top secret wedding top secret, that is.
"Putting Kit's face on the envelope might be a bit of a giveaway, at least for postmen across the country," the source added.
Although I am totally living for it, it seems like a kind of silly idea to put your face on the invites of a wedding you are trying to keep a secret. It's true, any postman who might be a fan of the show could see that as a little red flag, and maybe even open up the invitation to find out some deets. I am not saying anyone would do that, but it seems like a fail, if you ask me.
Though the couple is trying their best to keep uninvited guests out, the whole Game of Thrones cast will be in attendance, according to Metro.
How will the cast manage with filming? Well, in a pretty adorable exchange, Harington reportedly made it very clear to producers that the series will have be put on hold for his wedding. During an October 2017 appearance on The Jonathan Ross Show, Harington said,
I rang [the producer] up and I said, 'I'm getting married and it's your fault actually.' I think for the final season he is so stressed that he's reached that peaceful level. I was like, 'You need to factor in a Game of Thrones wedding by the way. They [the cast] have all got to be there so the whole thing has got to shut down.'
Sadly, we don't know much else about the GOT wedding, but on the bright side if you would like to purchase some of those Jon Snow stamps (maybe for your own wedding invitations) you can order them from Royal Mail. It's not limited to Jon Snow, either. There are also several character stamps available representing Houses Stark, Lannister, Tyrell, and Targaryen. Also, The Night King, the Iron Throne, and White Walkers, so get your credit cards out.
I admit to being a little bummed that we don't have just a little more access into Harington and Leslie's special day. It's so cute when co-stars end up together (as long as it ends well), and it would be nice if fans could have some clues. But, on the other hand, I totally get their need for privacy. Game of Thrones has a huge fandom and is easily one of the, if not the, most popular series on television. Well, at least fans can probably look forward to some post-wedding photos. Who knows, maybe the GOT wedding theme will extend past the Jon Snow stamps? I'm here for that.