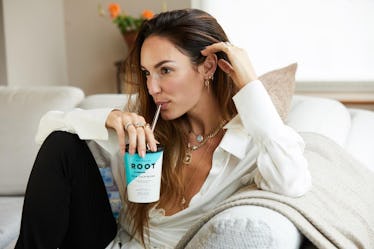 These CBD Smoothies Are So Good, They Just Might Make You A Morning Person
Before I was intentional about working out and meditating every morning, I would often start the day feeling worried about everything I had on my to-do list. Even on the weekends, there seemed to always be groceries to buy, birthday parties to attend, or deep-cleaning to do in my apartment. If you can relate, ROOT Blends' CBD smoothies could bring you the calm energy you need to balance out a hectic morning routine. Heck, I'd even go as far to say that these delicious bevs might just transform you into a full-blown morning person. Can you imagine?
In an exclusive interview with Elite Daily, Alastair Greer, CEO and founder of ROOT Blends, says he started the company in an attempt to create smoothies that aren't packed with a ton of added sugars the way many commercial smoothie products often are. Each drink, Greer explains, is full of organic raw fruit and vegetables, healthy fats, proteins, and superfoods. But adding one extra, special ingredient — aka cannabidiol, or CBD, which is a cannabis-derived chemical compound that, FYI, is not currently legal in all 50 states, as per Forbes — really sets this smoothie apart.
ROOT Blends' CBD smoothie, called the Calm Blend, is full of pineapple, avocado, spinach, kale, lime, hemp hearts (aka another part of a hemp plant that, like CBD, does not get you high), marine collagen peptide (aka an ingredient that benefits your skin, hair, nails, and even your joints and bones), and, of course, CBD.
The Calm Blend smoothie, according to its product page, promotes calm energy about 15 to 20 minutes after you drink it, so if you need a little extra help getting started in the morning, this might be a great breakfast treat to sip on as you get ready for your day.
The decision to create a CBD smoothie was a personal one for Greer, he tells Elite Daily. "As a former rugby player, I have old injuries that have caused a lot of residual pain," he says. "After learning about the healing benefits of CBD, I spent years researching and testing CBD products and was astounded by the results."
BTW, even if you stick to a vegan diet, CBD can definitely fit into your lifestyle, Greer explains. "It is truly an incredible plant-based, functional ingredient that aligns perfectly with ROOT's goals to provide balanced, mission-driven nutrition."
But what exactly is CBD? Well, according to Greer, it's one of over 100 cannabinoids found in hemp and marijuana plants. There's no need to worry about getting high from a ROOT Blends smoothie, though. "When extracted from the hemp plant, there is less than 0.3 percent THC present, which is too little to cause psychoactive effects," he tells Elite Daily. "Our blends have tested under 0.118 percent."
That being said, Greer recommends sticking with one Calm Blend smoothie per day, even though he says overdosing is nearly impossible. If you feel like you need more CBD than that, it's a good idea to touch base with your doctor to figure out what's best for you.
In terms of how CBD affects your body, the compound works by interacting with something called your endocannabinoid system, which basically helps to create balance inside your body, Greer explains. He adds that the potential benefits of CBD can alleviate physical pain, reduce feelings of social anxiety, and CBD might even help to combat insomnia, too.
But there are some potential side effects to CBD, so make sure you're being careful with the compound, regardless of how you consume it. "The most common side effects of CBD oil are sedation along with GI symptoms like diarrhea," Timothy Welty, PharmD, chair of the department of clinical sciences at Drake University's College of Pharmacy and Health Sciences, told Women's Health. The ingredient can also interfere with certain medications, Welty told the outlet, so be sure to talk to your doctor if this is a concern for you.
If this is the first time you've heard about food infused with CBD, there's a whole world out there to explore if you're interested. Greer tells Elite Daily that anything from coffee, teas, and wine, to cereal, acai bowls, and burgers, can all be infused with CBD. Plus, some people even give CBD products to their pets to soothe anxiety.
So, for those mornings when you're feeling a little foggy, try sipping on this CBD smoothie, and you might just be shocked by how excited you are to greet the day.