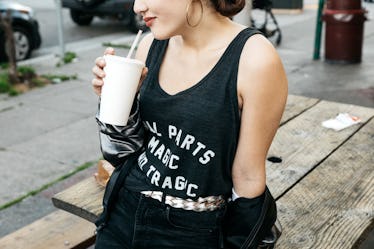 You Might Be Drinking CBD-Infused Coke Pretty Soon, But There's A Catch
For a substance that's still pretty illegal under federal law, CBD is making its way across the food and beverage industry rather quickly. From the tiny tinctures that invite you to add a drop or two into smoothie bowls, oats, and your favorite baked goods, to cannabis-infused candies and chocolate bars, the CBD market is pretty lit, to say the least — so lit, in fact, that even big name brands like Coca-Cola may be brainstorming their own crossover products. That's right, friends: CBD-infused Coca-Cola drinks might be a thing soon, according to Bloomberg, but I wouldn't start scouring the shelves at your local ShopRite for these bottles anytime soon. Per Bloomberg's report, the soft drink manufacturer isn't looking to break CBD beverages into the U.S. market just yet.
In case you aren't up to speed on weed lingo, and your eyes bugged out at the thought of casually getting high off of a glass of soda with dinner, chill out; CBD doesn't come from the part of a cannabis plant that gets you stoned. CBD actually stands for "cannabidiol," which, according to Dr. Gabrielle Francis, a naturopathic doctor practicing in New York City, is a chemical compound that makes up about 40 percent of the plant's extract. THC, or tetrahydrocannabinol, is the compound that gives marijuana its psychoactive effects — aka the thing that does get you high. CBD, on the other hand, Francis tells Elite Daily, "helps to regulate function of mood, inflammation, immunity, sleep, hormones, metabolism, nervous system and appetite."
As for how CBD's path may cross with that of your favorite soda, on Sept. 17, 2018, Coca-Cola released a statement addressing rumors that the soda distributor was reportedly interested in marijuana and cannabis, and made it very clear that, while the brand has zero interest in the psychoactive effects of marijuana, the company is keeping a close eye on the "growth of non-psychoactive CBD as an ingredient in functional wellness beverages." Coca-Cola spokesperson Kent Landers said in the statement,
We have no interest in marijuana or cannabis. Along with many others in the beverage industry, we are closely watching the growth of non-psychoactive CBD as an ingredient in functional wellness beverages around the world. The space is evolving quickly. No decisions have been made at this time.
Basically, the news that CBD-infused Coca-Cola drinks could be in the works is unconfirmed. However, according to BNN Bloomberg, the soda brand is reportedly in "serious talks" with Canadian marijuana producer Aurora Cannabis "to develop cannabis-infused beverages." So, does that mean CBD-infused Coke is coming to Canada? Well, according to Heather MacGregor, a spokesperson from Aurora, the cannabis producer is looking to break into "the infused beverage space," with full intentions of doing so, BNN Bloomberg reports. But will Coca-Cola be the brand to help Aurora accomplish this? "As a rule, we do not discuss business development initiatives until they are finalized, however we have a responsibility to our shareholders to give proper consideration to all relevant opportunities that are presented," MacGregor said in an emailed statement to BNN Bloomberg.
In other words, only time will tell.
Personally, I've been adding CBD oil to my smoothies for months to ease my anxiety, and I can honestly say that adding a drop or two to my mixes a couple times a week really does help to calm my nerves. But that's just me; the federal government, on the other hand, still isn't convinced about the health benefits of CBD, which is probably why Coca-Cola isn't about to approach the U.S. market with pro-cannabis pints — at least, not at this time.
The legality of cannabis and CBD oil is a little confusing because, while it's technically not legal under federal law, CBD is legal in some areas: As of April 2018, Forbes reported that laws on CBD oil differ from state to state, and are, in a way, kind of open to interpretation. In Colorado, for example, the state is down with CBD, and even recreational marijuana use for adults, but some states, like Massachusetts, will allow its citizens to grow marijuana, even though it's still considered illegal to grow hemp without a license in these parts. When you consider these factors, it's no wonder brands are hesitant to experiment with the ingredient.
Still, Kris Krane, an expert on cannabis law and president of 4Front, a firm that advises companies on the laws surrounding marijuana, speculated in an interview with CNN Money that Coca-Cola may test CBD-infused beverages in Canada first, in order to prepare for a potential launch in the U.S. market later on once the federal government gives the all-clear. "I can't imagine they're doing it just for the 35 million people in Canada," Krane told the news outlet. "They clearly have an eye on the US market."
Until then, you and I will just have to settle for regular ol' Coke. It may not be CBD-infused, but it's still delicious, so I'll cheers to that.