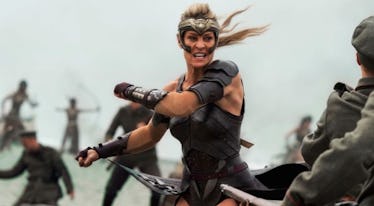 'Wonder Woman 1984' Is Bringing This Dead Character Back To Life
DC Entertainment
Although Diana has left Themyscira, Wonder Woman 1984 will still have all the of the Amazonian fierceness of the first movie. The upcoming sequel will surprisingly bring a fan-favorite dead character back to life, so now we have even more reason to look forward to the new movie. Robin Wright will be back in Wonder Woman 1984, according to a new profile in Net-a-Porter.
One of the most surprising details in Robin Wright's latest profile for movie fans was actually a brief sentence that was all but skipped over. Halfway through the profile, the author mentions that Wright has been in Spain with her Wonder Woman costar Connie Nielsen to shoot a scene for the upcoming sequel, Wonder Woman 1984. Obviously, this is pretty unexpected news since Wright's character Antiope was killed pretty early on in Wonder Woman, but according to the report, Wright was only working on a flashback scene for the new movie, so don't expect Antiope to come back from the dead or anything like that. The new Antiope flashback scene will also include Connie Nielsen's character Queen Hippolyta, Diana's mother and Antiope's sister. Fans can expect this flashback scene to pop up at some point in Wonder Woman 1984 when Diana needs to remember some fighting technique her mentor Antiope once taught her, or to reflect on some inspirational advice from Themyscira.
Strangely enough, Antiope is not the only character who died in Wonder Woman that the sequel is bringing back. Steve Trevor, the World War I fighter pilot played by Chris Pine, is also confirmed to return for the '80s-set sequel. But Steve's return is a lot more confusing than Antiope's — although Antiope is only appearing in a flashback, Steve Trevor is apparently alive in Wonder Woman 1984.
Director Patty Jenkins posted a photo of Steve Trevor in Wonder Woman 1984 looking exactly as he did in Wonder Woman, except he is transplanted from the 1910s to an '80s shopping mall. Not only is this confusing because Steve has not aged a day in the 70 years since we last saw him, but also because we watched him presumably die at the end of Wonder Woman, flying a plane full of explosives into the sky to save his friends. It definitely looks like there is going to be some sort of time travel or magic at play to enable Steve to return in the new movie.
And Wonder Woman 1984 is not only going to be bringing back some surprising familiar faces: the new movie will introduce Kristen Wiig to the DC Entertainment Universe as the supervillain Cheetah. Wiig's role of Cheetah will be the primary antagonist of the movie — a British anthropologist who accidentally becomes possessed by a powerful, ancient Cheetah god. The movie will also star Pedro Pascal, Natasha Rothwell, Ravi Patel, and Gabriella Wilde in undisclosed roles.
Of course, Gal Gadot is also confirmed to reprise her eponymous role as Diana Prince/Wonder Woman. Wonder Woman 1984 is scheduled to land in theaters on Nov. 1, 2019.