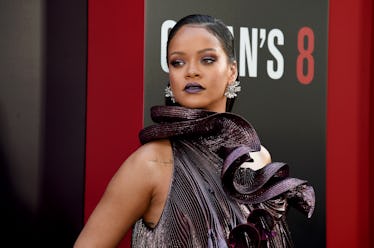 Rihanna Told The Funniest Story About Stealing Chinese Food At The 'Oceans 8' Premiere
Jamie McCarthy/Getty Images Entertainment/Getty Images
It's no secret to anyone that Rihanna is one of the incredible stars of Ocean's 8, a heist movie that boasts an all-female cast. What may be a secret, though, is that most of the cast, which includes Cate Blanchett and Sandra Bullock, have all stolen a thing or two in their time. Rihanna included. Except that Rihanna's tale of thievery is a rather strange one. Why? Because she stole Chinese food, of all things! Rihanna's story about stealing Chinese food was relayed to Entertainment Tonight in brief red carpet interview.
Before I get into the details of Rihanna's Chinese food story, I have to back up a bit and give you some context.
The sole reason this story came about is because, back in May 2018, Rihanna asked her fellow Ocean's 8 castmates if they'd ever stolen anything in their lives. Their responses were pure comedic gold.
Bullock apparently stole something candy-related when she was just a wee kid. "It was in the candy family," she said. "I was young and didn't know any better."
She actually seems remorseful in saying this. But that's no surprise — she's a good gal. Everyone knows that!
Meanwhile, the always-mischievous Blanchett revealed that she stole "bread rolls" at some point during her 49 years on this earth. I don't know why, but that seems like something she would do.
Sarah Paulson, of American Horror Story fame, explained that she stole a body suit. "It was a velvet bodysuit. It had a snap crotch," Paulson said. "A couple of my friends and I did it together."
Again, I am somehow not surprised one bit about this.
So, given that Rihanna put all these lovely ladies on the spot, they decided to do the same for her! Her Ocean's 8 castmates requested that ET ask her the very same question, and ET did exactly that while Rihanna was walking the red carpet for the film's premiere on Tuesday, June 5.
Although brief, Rihanna's response was incredibly funny and unexpected!
"I stole Chinese food," she said. "It's a long story."
Hm, wonder how it all went down? Guess the world will never know!
Ocean's 8 is Rihanna's latest foray into acting. In the film, she plays Nine Ball, who's an all-around bad girl. Sort of like Rihanna herself, except that Nine Ball is a hacker extraordinaire who is tasked with helping an all-star team of expert thieves snag some incredible jewelry from the Met Gala.
Rihanna was reportedly a big influence for how her character turned out on paper as well as on screen, according to director Gary Ross. In an interview with Vogue, Ross explained:
Rihanna is so bravely authentic. She doesn't care what people think of her; she's fully invested in being herself. She also has a seriousness of purpose and focus that not a lot of people have. It's all about the work, and it doesn't come with any excess personal baggage.
Now that's impressive. Clearly, Rihanna is one influential lady! Gotta love it!
While Rihanna is primarily known as a singer, she's been venturing into acting as of late.
In 2017, Rihanna played Marion Crane in A&E's Bates Motel opposite Freddie Highmore and Vera Farmiga. The singer's appearance on the show was a highlight for the series, especially since she was embodying such an iconic character.
The gig on Bates Motel was just one of many that showcases Rihanna's acting skills. She also had a part in Valerian and the City of a Thousand Planets. And now with Ocean's 8 hitting theaters on June 8, everyone gets a chance to see her work her theatrical magic once again. Can't wait!