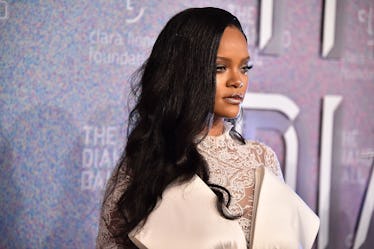 Rihanna Has A New Government Job In Barbados, Because The Reign Just Won't Let Up
Theo Wargo/Getty Images Entertainment/Getty Images
Your favorite bad gyal just made a serious boss move that's about to take up yet another spot in the history books. If you haven't heard, in addition to being a makeup mogul, philanthropist, fashion designer, and a badass entertainer, Rihanna is now an official ambassador for Barbados. Clearly, the #RihannaReign is forever.
The 30-year-old singer, whose real name is Robyn Rihanna Fenty, was reportedly named "ambassador extraordinary and plenipotentiary" for her home country on Thursday, Sept. 19. Through her role, she'll be promoting education, tourism, and investment, according to TIME.
The Caribbean island's current prime minister, Mia Amor Mottley, said she was honored to appoint Rihanna to the role. "Rihanna has a deep love for this country and this is reflected in her philanthropy, especially in the areas of health and education. She also shows her patriotism in the way she gives back to this country and continues to treasure the island as her home," Mottley said in a statement.
"She has also demonstrated, beyond her success as a pop icon, significant creative acumen and shrewdness in business. It is therefore fitting that we engage and empower her to play a more definitive role as we work to transform Barbados," she continued.
Rihanna followed up by saying she "couldn't be more proud" to be given such a title. "I couldn't be more proud to take on such a prestigious title in my home country," she explained, per The Independent. "Every Barbadian is going to have to play their role in this current effort, and I'm ready and excited to take on the responsibility." And we're even more thrilled to see you continue to kill all these efforts, Rih.
The pop star has long been an active figure in the social and political world, so if you ask me, this ambassador gig seems well earned. According to The Guardian, she single-handedly wiped almost $1 billion off the value of Snapchat's parent company, Snap Inc. after she called out its ad campaign back in March that appeared to make light of domestic violence. Though the platform quickly pulled the ad and issued an apology, Rihanna fired out a serious message aimed at it on Instagram, which received widespread praise in the Twitterverse. She wrote: "You spent money to animate something that would intentionally bring shame to DV [domestic violence] victims and made a joke of it!!!... Shame on you."
Rihanna also publicly called for an end to gun violence back in December 2017, following the reported shooting death of her cousin in Barbados. She shared the heartfelt plea in the caption of a sweet Instagram photo of her and her cousin, writing, "#endgunviolence."
Her philanthropic efforts in her homeland even earned her the 2017 Harvard Humanitarian of the Year award. According to Billboard, when accepting the honor that February, Rihanna said she'd had a passion for helping people since she was a young girl watching commercials about how a quarter could help change someone's life. She said:
I would think to myself, 'I wonder how many 25 cents I could save up to save all the kids in Africa.' And I would say to myself, 'When I grow up and I get rich, I'm gonna save kids all over the world.' I just didn't know I would be in a position to do that by the time I was a teenager.
Funny how life works, isn't it? Congrats on everything, Rih! I can't wait to see where you go from here.