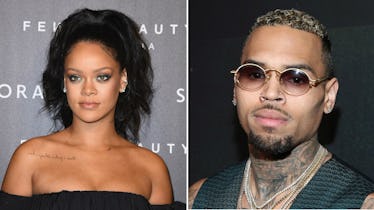 Rihanna Slams Snapchat For Insensitive Ad About Her & Chris Brown: "Shame On You"
Pascal Le Segretain / Staff & Jonathan Leibson/Getty Images Entertainment/Getty Images
The popular app Snapchat is doing some serious apologizing after releasing an ad campaign for a new video game during the week of March 12 that many people found offensive. The game, titled "Would You Rather?," asked users the question, "Would you rather: Slap Rihanna or punch Chris Brown?" On March 15, Rihanna responded to Snapchat's ad with a message on Instagram saying: "You spent money to animate something that would intentionally bring shame to DV [domestic violence] victims and made a joke of it!!!... Shame on you."
Chris Brown's lawyer, Mark Geragos, gave the following statement to US Weekly: "They should change their name from Snapchat to Tone Deaf." Elite Daily reached out to both Rihanna's and Brown's teams for additional comment, but did not hear back by the time of publication. A spokesperson from Snapchat gave the following statement to Elite Daily:
This advertisement is disgusting and never should have appeared on our service. We are so sorry we made the terrible mistake of allowing it through our review process. We are investigating how that happened so that we can make sure it never happens again.
The company also released a statement to BCC on Monday, March 12:
The ad was reviewed and approved in error, as it violates our advertising guidelines. We immediately removed the ad last weekend, once we became aware. We are sorry that this happened.
According to Snap, the "Would You Rather" game is not affiliated with Snapchat/Snap Inc. and is now blocked from the platform as an advertiser.
The insensitive advertisement comes years after Chris Brown was charged with assaulting Rihanna in his vehicle on the eve of the Grammys in February 2009. Brown plead guilty to "one count of assault with the intent of doing great bodily injury." CNN reports Brown was served with five years probation, 180 days in jail or the equivalent, 1,400 hours of "labor-oriented" services, and was required to attend a year-long domestic counseling program. Brown was also served with a restraining order against Rihanna, which TMZ reports was lifted in February of 2011.
On March 15, Rihanna responded to the advertisement on her Instagram story. Her full statement read,
Now SNAPCHAT I know you already know you ain't my fav app out there! But I'm just trying to figure out what the point was with this mess! I'd love to call it ignorance, but I know you ain't that dumb! You spent money to animate something that would intentionally bring shame to DV [domestic violence] victims and made a joke of it!!! This isn't about my personal feelings, cause I don't have much of them … but all the women, children and men that have been victims of DV in the past and especially the ones who haven't made it out yet …. you let us down! Shame on you. Throw the whole app-oligy away.
Now, fans are saying they're boycotting Snapchat and calling for others to join them on Twitter. People are calling the app "pointless" and supporting Rihanna by deleting their Snapchat accounts.
According to Bloomberg luxury reporter Kim Bhasin, Snapchat stock is down the most it's ever been since Kylie Jenner announced she was no longer using the popular social media app on Twitter in February.
According to Snap, all advertising must conform to their advertising policies which forbid "shocking, sensational, or disrespectful content" and "content that demeans, degrades, or shows hate toward a particular race, gender, culture, country, belief, or toward any member of a protected class." It also forbids "content depicting excessive violence, including the harming of animals," among other specifications.
Their policies also state:
All ads are subject to our review and approval. We reserve the right to reject or remove any ad in our sole discretion for any reason.
We also reserve the right to request modifications to any ad, and to require factual substantiation for any claim made in an ad.
Additionally, most of the video advertising on Snapchat is purchased through a self-serve advertising platform in which companies create their own campaigns.
Clearly, this one was a giant disaster.
If you or someone you know is suffering from domestic violence, contact The National Domestic Violence hotline at www.thehotline.org.