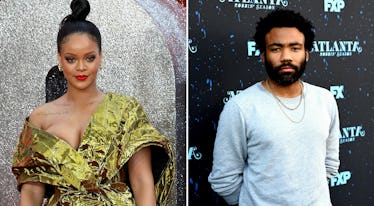 Rihanna & Donald Glover Are Reportedly Filming A Movie Together In Cuba
Tim P. Whitby/Getty Images, Kevin Winter/Getty Images
Two of the coolest people in the world are working together on a secret project right now, and it sounds like it might be a movie. New photos show Rihanna and Donald Glover hanging out together in Cuba this week and filming something, but the details of this project are still scant. Thankfully, the Cuban music magazine Vistar actually has revealed some details about this mystery project: Rihanna and Donald Glover are filming a movie called Guava Island together, according to the magazine.
The internet has been in a frenzy over new photos of Rihanna and Donald Glover hanging out in Cuba this week, and apparently, the two musician/actors are there to film a movie entitled Guava Island. Not much is known about this mysterious movie, which has yet to be officially announced, but reportedly, it is being directed by Glover's frequent collaborator Hiro Murai. Murai has worked with Glover throughout his career, directing a bunch of Glover's Childish Gambino music videos (including his recent thinkpiece-generating smash "This Is America") as well as directing and producing several episodes of Glover's series Atlanta.
The movie also reportedly costars Black Panther breakout Letitia Wright and Game of Thrones actor Nonso Anozie. Here's what the Cuban magazine revealed about Guava Island:
Rihanna's stay on the island coincides with what appears to be the filming of a movie titled Guava Island, where the singer shares a cast with American actor and comedian Donald Glover. According to sources close to the magazine, the director of this film is in charge of the director Hiro Murai and the actors Nonso Anozie and Letitia Wright also participate. The film had as locations some little crowded places of the capital, among them, the textile factory of the Alamar municipality and the Abreu Fontán Social Circle in Miramar.
All of this comes after photos of Rihanna and Donald Glover together in Cuba have begun popping up online. One photo shows a smiling Rihanna jokingly adding bunny ears to a shirtless Glover.
Other shots show Rihanna on a set in Cuba.
Although this notion of a movie called Guava Island is the best detail we have to go off of, the actual nature of this Rihanna/Donald Glover filming project is still pretty up in the air. They could be working on a movie, but the two stars are, of course, also super famous musicians, so this project could also be a music video for a new collaboration between Rihanna and Donald Glover's rap alter-ego Childish Gambino. After all, Hiro Mira, the director connected to this project, is actually best known for his work on music videos, and has yet to direct a feature film.
Then again, both Rihanna and Donald Glover have been making a huge splash in major movies recently. Glover hit a big-budget franchise trifecta by starring in Spider-Man: Homecoming, Solo: A Star Wars Story, and the upcoming The Lion King. And Rihanna has also gotten a lot more attention for her acting after starring in Ocean's Eight.
I guess we are just going to have to keep our eyes on Rihanna and Donald Glover over the next few days to see if any more details come out about this secret project in Cuba!