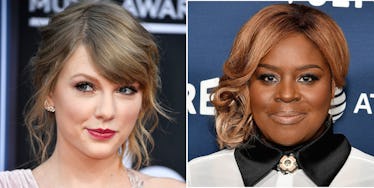 Retta Told A Really Embarrassing Story About Taylor Swift In Her Book & I'm Cringing
Frazer Harrison/Dia Dipasupil/Getty Images
Parks & Recreation and Good Girls actress Retta has a new book coming out — a memoir called So Close To Being The Sh*t, Y'all Don't Even Know. Other than having an amazing title, the book documents hilarious stories from Retta's life as a celebrity, and it apparently tells an LOL-worthy story about Taylor Swift. Retta's story about Taylor Swift cutting a bathroom line is so Retta, it's making me want to re-watch all of Parks & Rec again (which I already do at least once a month). Elite Daily reached out to Swift's team for comment on this story, but did not hear back by the time of publication.
According to Vulture, a lot of Retta's book recounts the times she met celebrities who were more famous than her. The book talks about how hot Idris Elba and Michael Fassbender are in person and lots of other hilarious tales, but one of the best is this story of the time she and Swift were both waiting in line for the bathroom at the Golden Globes in 2014.
Jim O'Heir (Gary/Jerry on Parks & Rec) apparently kept on refilling Retta's glass with champagne during the Golden Globes (their castmate Amy Poehler was hosting for the second year in a row with her bestie Tina Fey and they should host it always — but that's neither here nor there). That means she had to pee like hell at one point. When she got in line, she says Swift got in line right behind her.
"We're standing there forever in line, standing in line, moving up, moving up, and I was next," Retta said, "I was looking off to the left, and I see Taylor walk past. I yelled 'Taylor!'" Swift apparently tried to cut her in line, and Retta was having none of it.
She continued, "She turns around and was like, 'Oh, were you next?' I was like, 'Was I? We was standing in this together for like 15 minutes. B*tch, you know I was next,' and I walk past her and went to the bathroom."
Sweet lord, I love Retta so much. Apparently, the lawyers for Retta's publisher were concerned that Swift would take legal action over this bathroom story. Retta said,
The lawyer was like OK, how can we work this because [Swift] may be like, 'That never f*cking happened.' It did because I told the story the minute I came out of the bathroom, and I've been telling it ever since. It was pretty f*cking funny to me.
Honestly... it's pretty damn funny. I can just imagine this entire exchange going down because I've seen it happen at literally every single bar I've ever been to in my entire life. Look, lines for women's bathrooms are long as hell. I promise you that every single woman has tried to cut the line at least once in her life, and I also promise you that every single woman has called a woman out for trying to cut the line at least once in her life. It's part of the ~female experience~, so this entire exchange can just be labeled under painfully relatable stories about women trying to pee.
Retta being Retta, she apparently had the funniest thought after she reportedly told Swift off. She said her first thought after the exchange was, "I was thinking I'll be in her songs next." LOL. The biggest plot twist in the world would be if "Look What You Made Me Do" wasn't about Kanye West and Kim Kardashian like everyone believes, rather the long bathroom line at the 2014 Golden Globes. Retta, look what you made her do!
Swift was at the Billboard Music Awards on Sunday, May 20, but so far no news on whether or not someone tried to cut her place in line at the bathroom. Hey, when you gotta go, you gotta go!