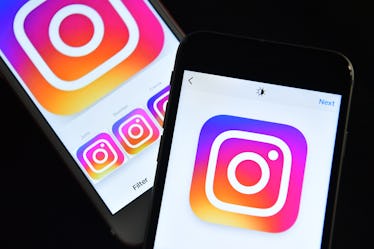 A New Way To React To Instagram Stories Is Being Tested, & It's Genius
Carl Court/Getty Images News/Getty Images
Instagram is at it once again. It seems the social media app is working on another new feature for users. The social media app is reportedly testing a new functionality that will allow you to respond to an Instagram Story using emojis, but it's not available to everyone yet. Currently, there are limited ways in which you can reply to an Instagram Story, so this new feature seems pretty promising. Responding to an Instagram Story would get easier with this new feature being tested, and I can't wait to try it out.
A Reddit user was among the first to discover the emoji reaction feature for Instagram stories, which is still in the testing phases, according to Refinery 29. Per an official statement from Instagram, "We are testing a way to make it easier to interact and get closer with your friends on Instagram." The user posted the following comment to Reddit, "You can now react to stories with a suggested five to six emojis displayed on screen if you click the small face at the bottom left of the screen." Pretty awesome, right?
Like previous Instagram features that are in the testing phase, the emoji response feature is only available to a certain group of users. Instagram usually tests out the new functions with a small batch of people to gather feedback about the feature and work out any kinks. It's unclear if the emoji response for Instagram Stories is actually going to become a public feature, but I sure hope so.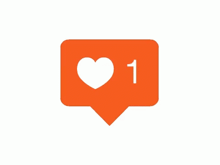 At the moment, there are limited ways that users can respond to Instagram Stories. When viewing an Instagram Story, you can type a message in the text bar or you can click the camera icon to respond with a photo or video. There's nothing wrong with either of those response prompts, but sometimes they don't fit my mood. There are always those times when you want to reply but don't want to type any words. You know, kind of like when you are texting and you don't want to say "haha" for the millionth time so you send the laughing face emoji. Or, when you just don't know what to say but know you need to text back something. Then, you wind up sending whatever emoji looks good at the time. I know I've been there more than once, which is what makes the possibility of an emoji slider response feature for Instagram Stories so genius.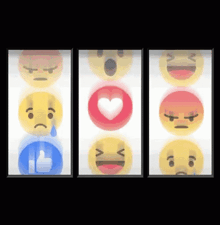 Instagram isn't wasting any time with new features this year. Recently, Instagram launched Questions Stickers. The latest function to hit the app allows you to respond to a question in a Story or ask your own. Oh, and you can also add music to your Instagram Story now, too, thanks to a new feature that came out in June. Instagram seems to be putting a lot of effort into increasing the functionality within Instagram Stories. The new features make Instagram Stories more interactive and engaging for users and viewers alike.
I'm eager for Instagram to possibly roll out the emoji response feature to everyone. It's unclear when (or if) Instagram will actually make this feature available to all users, but a girl can dream.
Editor's note: This article has been updated to include Instagram's statement.