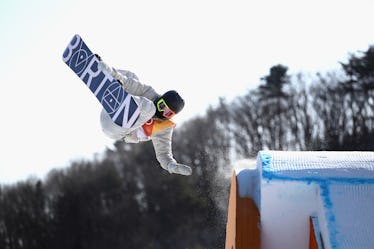 This Olympian Won Gold After Oversleeping Thanks To Netflix, & It's All Of Us
Clive Mason/Getty Images Sport/Getty Images
If I was still in undergrad and overslept the day of a test due to me binge-watching a show in the hours before my alarm went off, it'd be pretty safe to assume that I'd be in complete panic-mode that would result in a failed exam and a wistful heartbreak. But I guess some people are more capable than others — like Olympic snowboarder Red Gerard, for instance. At the 2018 Winter Olympics, Red Gerard won gold after oversleeping, thanks to Netflix, and I'm shook.
On Sunday, Feb. 11, Gerard woke up in a "panic" after oversleeping on the day of his snowboarding competition, according to Vice. He'd reportedly dozed while watching Brooklyn Nine-Nine on Saturday night and slept through his alarm, set for 6:00 a.m. the next morning — the day of his Olympic competition. At 6:20 a.m., when his roommate and teammate, Kyle Mack, asked if Gerard was "out of bed yet," he wasn't even close.
The site reported that the snowboarder eventually got up and ate a breakfast sandwich. Though he briefly panicked when he couldn't find his jacket, he simply borrowed Mack's instead, and headed for his competition, where he won an Olympic gold medal in slopestyle snowboarding. I don't know about you, but I can totally visualize the nonchalant-ness of it all.
On Feb. 11, Gerard claimed Team USA's first medal at the 2018 PyeongChang Games. The win also solidified the 17-year-old as the youngest Olympic snowboarding champion in history, and the first competitor born in the 2000s to claim a medal at any Winter Olympics, according to NBC Olympics. Oversleeping is completely relatable, but if Gerard's groundbreaking win is some sort of new fate to oversleeping, I'm never setting my alarm again. In fact, BRB; I'm going to take a nap.
According to Vice, Gerard had a score of 87.16 out of 100 for his three snowboarding runs, which earned him the top spot over Canadian snowboarder Max Parrot. When Gerard saw his results, he belted out an excited, "holy f*ck," as displayed on NBC's live feed. (Which also may or may not have been his reaction when waking up at 6:20 a.m., but we'll never know.) His family also appeared to be enjoying the moment as much as him: according to USA Today, they were hanging out on the sidelines and shotgunning beers while they waited for Gerard to compete. That's how you do the Olympics, everyone.
When talking about his win, the snowboarder told NBC Olympics,
I started off the morning super groggy, woke up, did not want to get out of bed and just did the practice and went through the routine and all I said to myself is 'I just want to land a run' and the first three runs didn't go good and the last run, I landed, so that's all I really asked for. I'm just happy that I landed.
According to Yahoo, Gerard later added, "I actually said going into all the contests that I'd love fourth place. But first place is better, I got to say."
Gerard has a pretty nonchalant attitude.
Gerard seems to have laid-back attitude, which kind of makes the news of his Olympic win after oversleeping expected. According to NBC Olympics, when speaking about the competition last year, the snowboarder said he never really paid attention to the event. He said,
I've never really found myself thinking about [the Olympics]. I feel like there's just always so much stuff going around that I want to pay attention to. And [the Olympics] are just far ahead, so whatever.
He even previously mentioned that he didn't know what the competition was. He said,
I just didn't really think I knew what the Olympics is. I kind of grew up just watching Dew Tour and X Games. I'd never really realized how big it is.
I'm not sure how Gerard does it, but all I know is that I need some of that energy or luck in my life. And on the other hand, if he's scoring big like this, imagine what he could do with a full night's rest. Maybe we'll get to see at his next competition. Fingers crossed.