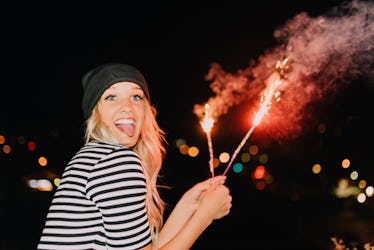 Why Your Quarter-Life Isn't A Crisis & It's When The Real Party Begins
Uh-oh, here it comes. The age of 25 can be sniffed out the second you turn 24, because it's notorious for instilling this fear in us that our lives need to be going as scheduled. It's a sensitive point in your life where self-reflection is at an all-time high, and if you perceive it the wrong way, you'll be stuck in a "who the hell am I?" limbo that'll be tormenting AF. You shouldn't see reaching your quarter-life as a crisis, because your life and the things you want out of it are just getting started.
No one really knows who began this 25 taboo, but people have taken it and turned it into a highly-anticipated freak out. There's a subliminal race to have all of your stones in place by your quarter-life, when in actuality, everyone deserves to go at their own pace. Katy Perry said it best, "Baby you're a firework," and there is no way in hell that your quarter-life is the peak of your sparkling glory. In other words, your life has so much more time to be lit.
Don't let the totally made-up demands of 25 strip you of the beauty that really comes along with this new age. Seriously, don't do it. Instead, consider the positive things that turning 25 actually means for you and the person you're evolving into every single day.