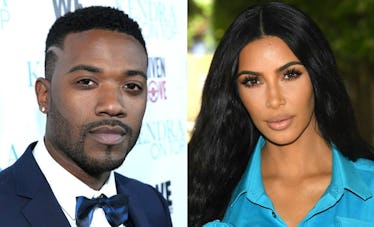 Ray J Responded To Kim K Calling Him A Liar With A Surprising, But Mature Message
Jonathan Leibson/Getty Images Entertainment/Getty Images | Pascal Le Segretain/Getty Images Entertainment/Getty Images
Ray J has something to say about all those rumors that he spoke crudely about his past sex life with Kim Kardashian in a recent interview, and he's not holding back at all. In an Instagram post published on Nov. 6, Ray J insisted that he didn't say any of the things for which Kardashian later called him a "pathological liar." Ray J's response to Kim Kardashian is surprisingly mature and real. Elite Daily reached out to Kardashian's reps for comment on Ray J's Instagram post, but did not hear back by the time of publication.
In his post, Ray J claims that The Sun's interview with him in which he supposedly dished intimate details about his past sex life with Kardashian are "false rumors." He claims he never disrespected anyone in the "10 interviews" he did during the two weeks he was in London, especially not Kardashian.
Kardashian and Ray J dated in the early 2000s and they famously filmed a sex tape together. On Nov. 1, The Sun published an interview with Ray J in which he reportedly talked about his relationship with Kardashian.
"Kim and I had fun times — marathon sessions," he reportedly told The Sun. "But she didn't like getting sweaty and would stop to do her makeup if she did. She liked to look dope during sex, the right lighting, setting the mood. She was wild - there was a red Louis Vuitton trunk of sex toys. She would order out for pizza, the only thing not working up a sweat was the Cristal cooled to 22 degrees... her mom would call and she would nearly always take it."
The fact that Ray J revealed all those supposed intimate details about their past relationship didn't exactly sit well with Kardashian. So, when she heard about the story, she called him out for his "pathological" lies.
After letting that sit for a few days, Ray J finally decided that he would speak out. And he did so with a video on Instagram. In the video, Ray J explained where his mindset is and why he couldn't possibly have said what The Sun alleges he did.
In the video, Ray J said, in part, "I felt like I needed to come online to shut down all of these false rumors that's going around about me and what I said about somebody I've been with in the past… I would never say these things after watching my wife go through labor for 28 hours. OK? The person I am now is not who I was in the past, and I need y'all to give me a chance to grow, and to love and to respect the people I'm with without trying to slander my name, please."
You can check out his video down below:
Ray J also captioned his video with more reasons fans shouldn't believe what was published in The Sun.
"FALSE RUMORS! - I've done at least 10 interviews in the past 2weeks in #London and I've been respectful to everyone!" Ray J wrote in the post. "These rumors are false and uncalled for! My family is all that matters and that's all I live for. The old ray J is dead. Let him RIP. I'm a new man with new responsibilities and moral values. Don't believe everything you read. Much love and respect! #LetGodWork and GO VOTE!!!"
It's great Ray J spoke out to tell his side of the story in a mature and emotionally sound way. It seems like he's ready to move on from the Kim Kardashian phase of his life and be present for his wife and daughter. Good for him!