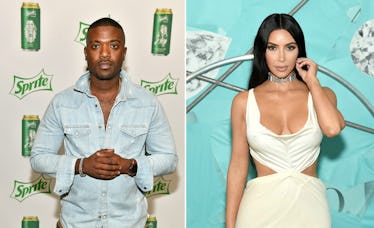 Ray J Reportedly Said The Shadiest Thing About Kim K After Her Sex Tape Confession
Paras Griffin/Dimitrios Kambouris/Getty Images Entertainment/Getty Images
Where were you when you heard that Kim Kardashian admitted that she was on drugs when she filmed her sex tape? I was at my computer, literally writing about it, and let me tell you, it was all sorts of mind-blowing. But now, after hearing Kim tell her sister Kendall Jenner and Scott Disick that she was high on ecstasy while filming her sex tape with singer Ray J, Ray J's thoughts on the matter are reportedly here. According to new reports, Ray J's reaction to Kim Kardashian's comments about their sex tape is shady AF. Elite Daily reached out to both teams for comment on the report, but did not hear back by the time of publication.
Let's rewind things a bit here. On KUWTK, Kim reminisced about her recent high school reunion with sister Kendall Jenner and Kourtney's ex, Scott Disick. The conversation veered towards Kim's past as she explained to Kendall and Scott that she's changed a lot since her days of early adulthood.
After Kendall and Scott tell Kim that they've heard "some stories" about Kim's past, Kim delivers the confession of a lifetime, revealing that she was not only high when she got married to her first husband, music producer Damon Thomas, but she was also high when she made her sex tape.
"I got married on ecstasy," Kim admitted, adding, "I did ecstasy once and I got married, I did it again and I made a sex tape. Like everything bad would happen."
"You were high on ecstasy when you did the sex tape?!" a very shocked Scott asked.
Calmly, Kim responded, saying, "Absolutely! Everyone knows it, like my jaw was shaking the whole time."
It was... a lot to take in.
But it turns out that Ray J reportedly has a bone to pick with Kim's claims, and his reported reaction is, um, not the best.
According to TMZ, Ray J sources say that Kim wasn't high on ecstasy at all when the sex tape was made, but noted that she "did smoke some weed out of a penis-shaped pipe." The sources also say that her lip wasn't quivering because she was on ecstasy, but simply because she was having sex.
These mysterious Ray J sources also added that he's "offended" Kim would tell the world that she made the sex tape while high on drugs, and that he doesn't want people to think that he'd take advantage of a woman in that way, noting that Kim "was down with it from the beginning and all the way through."
Sources reportedly close to Kim say that she stands by her claim, noting that she has nothing to gain from lying about something of that nature, adding that Kim is "thankful to have learned early on from the experiences with drugs and attributes those lessons to her decision to not get heavily involved in drugs or alcohol through adulthood."
Believe whatever you want, but I personally believe Kim is handling this like a champ. At the end of the day, she's still an absolute queen, and questioning her and digging through her past just isn't right. So let's all move on from this, and get back to loving the Kardashians the way they deserve to be loved.
Okurrr? Okurrr.