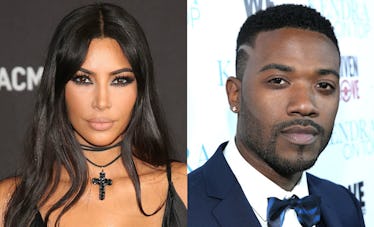 Kim K Just Responded To Ray J's Claims About Their Past Sex Life With An Epic Clapback
Jesse Grant/Jonathan Leibson/Getty Images
Ray J is trying to get that Kardashian attention again. Kim K's singer ex-boyfriend has a history of lying about his former relationship with Kardashian, and now he's back to his old tricks telling The Sun that she had the most diva-like tendencies when they had sex. But Kim, being Kim, clapped back at her ex's claims, and Kim Kardashian's response to Ray J's claims about their past sex life set the record straight real quick.
Ray J's comments to The Sun reportedly were made during a night out in London on Thursday, Nov. 1. "Kim and I had fun times — marathon sessions," he told the outlet. "But she didn't like getting sweaty and would stop to do her makeup if she did." First of all, ew, Ray J. It's been what, nearly a decade since you and Kardashian dated? (The singer is Kim K's ex with whom she recorded the sex tape that helped shoot her to stardom.) Even if that claim that she would stop mid-sex to fix her makeup was true (which I already doubted before Kardashian added her two cents), it's truly gross that he's going around telling news outlets these "details" about their past sex life. It's just smarmy, dude.
And he didn't stop there. He continued to tell the outlet that Kardashian would answer calls from Kris Jenner and needed to make sure that the lighting was right at all moments during sex. "She liked to look dope during sex, the right lighting, setting the mood," Ray J said. "She was wild — there was a red Louis Vuitton trunk of sex toys."
Did you think he was done? Of course he wasn't! Ray J added, "She would order out for pizza, the only thing not working up a sweat was the Cristal cooled to 22 degrees... her mom would call and she would nearly always take it," and then he claimed that she would spend nearly $100k a year on thongs. Boy, I have had enough.
And so has Kim! A fan tweeted about Ray J's comments, and Kardashian tweeted back ensuring the fan that she need not pay Ray J any mind.
"RayJ constantly revealing all these intimate details about @KimKardashian shows that he is suffering from low self esteem! Hoping that Kanye ignores his a**," a Twitter user said.
"Or shows he's a pathological liar," Kardashian tweeted back with laughing emojis. "You actually believe this story? It's too funny to me!" And there you have it. Don't worry about how Kim is taking this Ray J B.S., everyone. She's doing just fine! In the now immortal words of Ariana Grande: "Thank u, next."
This isn't the first time Ray J has tried to squeeze all the fame out of his former relationship with Kim Kardashian he can get. Let us never forget his 2013 song "I Hit It First," which he claims over the years isn't about Kardashian despite the obvious references to her and Kanye West in the lyrics. The "I Hit It First" lyrics literally say, "She might move on to rappers and ballplayers, but we all know I hit it first," then he later sings, "But now baby chose to go West." Go West. Go. West. The song's cover art is also a pixelated image of what appears to be Kim Kardashian. The pixelation could also be seen as a nod to the cover art for Kanye West's My Beautiful Dark Twisted Fantasy.
According to The Sun, when Kanye West and Kim Kardashian came up in conversation at the aforementioned Nov. 1 party in London, Ray J reportedly said "I hit it first!" to the crowd. Ray J, let's not pretend this song isn't about exactly who we think it is. Thank you, next!