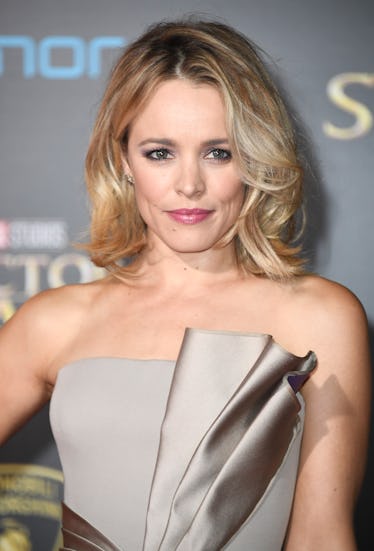 Rachel McAdams Gives Birth To Her First Child After Keeping Her Pregnancy Under Wraps
Frazer Harrison/Getty Images Entertainment/Getty Images
Regina George is a mama! According to People, Rachel McAdams reportedly gave birth to a baby boy with boyfriend Jamie Linden, but it's not clear when she gave birth. E! News reported in February that the 39-year-old actress was pregnant, but she never confirmed the news and made no formal announcement, so fans are shook by this surprise. Elite Daily reached out to McAdams' team for comment, but did not hear back by the time of publication.
Multiple sources reportedly told E! News in February that McAdams was expecting her first child with boyfriend Jamie Linden, but the reports were never confirmed by the couple. New photos obtained by the Hollywood Pipeline, however, show McAdams and Linden together, and Linden appears to be holding a newborn baby. McAdams and Linden have reportedly been together since April of 2016 and have kept the details of their relationship private, so it comes as no surprise that they would also choose to keep their baby news private. Although McAdams currently stars in the comedy Game Night, she did not attend the film's premiere in February, which lead some fans to believe that the pregnancy rumors were true.
Fans are so excited for McAdams and Linden, and they're also really impressed by the fact that they successfully kept the pregnancy and birth a secret.
She probably has the Kardashians to thank for that one. We were so wrapped up in trying to uncover Kim, Kylie, and Khloé's respective baby news, it's no surprise that other celebrities were able to float their pregnancies under the radar.
Linden is a writer/director who got his start writing the screenplay for We Are Marshall, according to People. He also wrote the script for Dear John, a Nicholas Sparks movie starring Channing Tatum and Amanda Seyfried — two of McAdams' past co-stars. McAdams and Seyfried met while playing Regina George and Karen Smith in Mean Girls, and McAdams and Tatum starred in the 2012 film The Vow. While The Vow is not a Nicholas Sparks novel or movie, all three of these actors have been in Nicholas Sparks movies before. McAdams was in the best one, aka The Notebook, and Tatum and Seyfried co-starred in Dear John, so it's possible that McAdams and Linden met thanks to their mutual connections in the Nicholas Sparks universe.
McAdams told People in a 2009 interview that motherhood was a dream of hers. "Having a few [kids] would be great," she told the outlet. She noted in the interview that her mother is one of her biggest inspirations and that she one day hoped to be able to be the kind of mother to her children that her mother was to her. "My mom is a great inspiration to me," she said. "She's a nurse and very nurturing and gentle. She lets me be who I am. Hopefully I can take on those qualities and be as great as her."
The Game Night star told InStyle in 2010, "Part of me is very attached to the idea of having children. She noted in the November 2010 issue, "Too often you think, I just want to have a baby, but your thoughts don't include the person you're going to actually be making these little beings with. So I think it'll depend on if I find the person I want to do that with." McAdams also told Marie Claire in 2015 that she hoped to have children when the time was right, so it looks like she found that person and that time has officially arrived!
The couple will likely remain private about the details of their son's life, so don't expect to hear a name anytime soon. Do you think she named him Noah though? Or Aaron Samuel? Or none of the above? Probably none of the above. Ugh, a girl can dream. Congrats to the new parents!