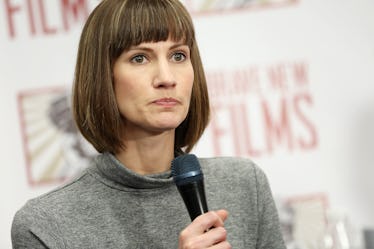 Rachel Crooks Clapped Back At Donald Trump's Tweets & I Am So Here For It
Monica Schipper/Getty Images News/Getty Images
In recent history, Rachel Crooks has become one of the few people who has shown me that not all heroes wear capes. On Feb. 5, she announced that she was taking matters into her own hands by running for office, and on Feb. 20, she just challenged President Donald Trump on Twitter after he questioned the credibility of allegations she had made against him. No seriously — Rachel Crooks clapped back at Donald Trump's tweets so hard that I'm over here giving her a standing ovation.
On Oct. 12, 2016, Crooks, who is running for a seat in Ohio's state legislature, accused Trump of sexual misconduct in an alleged incident that she claims happened at Trump Tower in 2006. Trump has denied the allegations, saying he's never met her, and the official White House stance is that the women who have accused Trump of sexual misconduct are lying. He also denied the allegations again on Feb. 20, implying there would be video if the encounter had actually taken place.
Crooks clapped back via Twitter just over an hour later, when she asked Trump to share the footage to "clear this up for everyone." Then she proceeded to say it was "liars like him" who made her want to run for office. Her tweet read,
Please, by all means, share the footage from the hallway outside the 24th floor residential elevator bank on the morning of January 11, 2006. Let's clear this up for everyone. It's liars like you in politics that have prompted me to run for office myself.
Bloop! Yes, Rachel. I need answers!
After seeing the way Trump denied her claims all over social media, I can't blame her for trying to make things clear. Earlier in the day, Trump claimed that he didn't know Crooks, and that her recollection of events "never happened" because he wouldn't "do this in a public space with live security cameras running." He wrote on Twitter,
A woman I don't know and, to the best of my knowledge, never met, is on the FRONT PAGE of the Fake News Washington Post saying I kissed her (for two minutes yet) in the lobby of Trump Tower 12 years ago... Never happened! Who would do this in a public space with live security......
....cameras running. Another False Accusation. Why doesn't @washingtonpost report the story of the women taking money to make up stories about me? One had her home mortgage paid off. Only @FoxNews so reported...doesn't fit the Mainstream Media narrative.
I'm just saying, but maybe defending yourself by implying you would never do something — if cameras are running — isn't the most solid of moral defenses.
Crooks detailed her alleged experience with Trump in an article with The New York Times in 2016. According to The Times, the alleged encounter occurred when Crooks worked at Bayrock Group, a real estate and development business in Trump Tower. After running into Trump one day outside of an elevator, Crooks claimed Trump shook her hand, but wouldn't let go. She alleged he started kissing her on her cheeks before he "kissed me directly on the mouth."
The publication reported Crooks saying that she violated afterwards, adding, "It was so inappropriate. I was so upset that he thought I was so insignificant that he could do that."
But Trump maintains his innocence.
During a phone interview that took place after Crooks' account was published, Trump denied the claims. He said, "None of this ever took place," before yelling at the reporter, according to The Times. He then reportedly told the reporter that she was a "disgusting human being" for questioning him about the allegations. (Yikes.)
So Crooks decided to take matters into her own hands. In an interview with Cosmopolitan.com from Feb. 5, she announced she would be running for a seat in Ohio's state legislation, telling the site, "I think my voice should have been heard then, and I'll still fight for it to be heard now. Americans are really upset with politics as usual, and I want to be a voice for them."
Though Trump keeps lashing out in attempts to clear his name, it looks like Crooks is on to something that'll settle this drama once and for all. Let's just hope Trump Tower security still has those tapes.