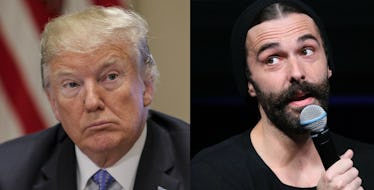 'Queer Eye's Jonathan Van Ness Went Off On President Trump Over His Omarosa Tweet
Pool/Getty Images News/Getty Images/Matt Winkelmeyer/Getty Images Entertainment/Getty Images
President Donald Trump is no stranger to Twitter feuds with celebrities, as well as sending his thoughts into the Twitterverse at all hours of the night and day. This time, a popular reality television star is clapping back at one of the president's most recent tweets about former White House aide Omarosa Manigault. Queer Eye's Jonathan Van Ness called Donald Trump "racist" for his Omarosa tweet, in which the president referred to Manigault as a "dog." Elite Daily reached out to the White House for comment on Van Ness calling the president racist, but did not hear back by the time of publication.
Van Ness was responding to a tweet that President Trump sent in the morning hours of Wednesday, Aug. 15. In his 175-character message, President Trump wrote, "When you give a crazed, crying lowlife a break, and give her a job at the White House, I guess it just didn't work out. Good work by General Kelly for quickly firing that dog!"
President Trump's tweet clearly didn't sit well with Van Ness. Hours later, the Queer Eye star quoted President Trump's tweet and fired back with a rigid response of his own, "Calling a women of color a dog is a perfect example of a dog whistle. Racism is clearly the goal, but since it's veiled he isn't 'racist' - well you are racist and we see you."
Minutes later, Van Ness followed up with a response to his initial tweet, "Also if you're upset at a tweet I made leave gurl bai! Being able to compromise is what's missing from both sides of the American political situation & the sooner we all get to a place of mutual understanding the sooner we will get out of this mess."
At the time of publication, President Trump had yet to respond to Van Ness' tweets.
President Trump's go-to insult these days seems to be resorting to "animalistic slurs," according to The Washington Post. A quick search on Twitter turned up multiple instances of the president using the word "dog" to insult those who he feels may have wronged him.
Manigault was fired from the White House in December 2017 after alleged misconduct, according to The Washington Post. In the days leading up to the president's Aug. 15 tweet, the former director of communications for the White House Office of Public Liaison released alleged audio recordings of her firing by chief of staff John Kelly in the White House Situation Room, according to CNN. Elite Daily previously reached out to the White House for comment on the alleged recording but did not hear back by the time of publication.
This all comes one day after the release of her book Unhinged: An Insider's Account of the Trump White House on Aug. 14. Per CNN, Press Secretary Sarah Sanders said on Friday, Aug. 10 that the book is "riddled with lies and false accusations." Needless to say, it seems that the Trump White House is feeling the heat after Manigault made the secret alleged recordings public, and that could be the motivation behind his tirade of tweets against the former Apprentice star.
The White House continues to deny that President Trump is racist. But a recent poll suggests that many American people, just like Van Ness, have a different opinion. In a Quinnipiac University poll published on July 3, 49 percent of voters said they think that President Trump is racist.
Van Ness certainly isn't the first (nor will he be the last) celebrity to take on President Trump. For now, the hair stylist has seemingly avoided a Twitter war with the White House.