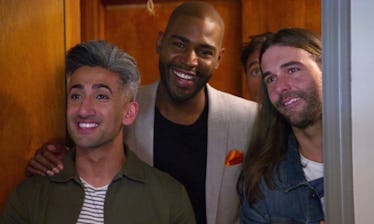 'Queer Eye' Season 2 Has An Official Premiere Date & It's Way Sooner Than You Think
Netflix
The (new) Fab 5 are returning to Netflix to impart their fashion, food, design, and culture expertise sooner than you think. Like, very soon. Entertainment Weekly just released their Summer Preview issue cover, and the mag reports that Queer Eye Season 2 has a premiere date. The show will heat up summer on Friday, June 15, 2018. Where's Antoni and his festive sangria when you need it? Here's to more Queer Eye!
"I don't know if I thought it was going to happen again the same way, but I felt like we had really cast an amazing team," creator of the series, David Collins, explained of the show's success.
The original groundbreaking Queer Eye premiered on Bravo back in July of 2003 and went on to become a cultural phenomenon, airing for five seasons until 2007. Netflix announced a reboot of the Emmy-winning series last year and Season 1 began streaming on February 7, 2018, becoming an instant hit and critical darling. The show's second season was confirmed in March and like the first, it will take place in Georgia. The Netflix description reads:
This season, the Queer Eye Fab Five return to the Georgia heartland, forging connections with communities from a wide array of backgrounds and beliefs often contrary to their own, touching on everything from self-love and faith, to immigration and how to make the perfect homemade poke bowls and more!
Viewers of Queer Eye's first season on Netflix fell in love with the revamped version of the mid-aughts favorite and the fresh Fab 5, so a second season seemed like a no brainer. "It came out on a Wednesday, and by that Monday, all of us had more than 100,000 followers on Instagram," grooming authority Jonathan Van Ness explained.
Hairstylist Jonathan's role is grooming expert, Tan France takes on fashion, Antoni Porowski tackles food and wine, Karamo Brown handles culture, and Bobby Berk is the advisor on all things design.
While the monumental first iteration of Queer Eye was set in New York, the guys on the updated version are based in an Atlanta loft.
The cast of Bravo's Queer Eye have gone on to fruitful careers since their own Fab Five days. "Fashion Savant" Carson Kressley has head a steady career as a commentator and TV personality and has appeared on a handful of reality shows over the years including Dancing With the Stars and RuPaul's Drag Race. Ted Allen become a Food Network staple — the "Food and Wine Connoisseur" has hosted Chopped since 2009. Kyan Douglas, the "Grooming Guru," hosted TLC's Ten Years Younger and continues to make television appearances. "Culture Vulture" Jai Rodriguez has hosted and been featured on a variety of programs over the years, and even acted in shows like Grey's Anatomy and Grace and Frankie. "Design Doctor" Thom Felicia has his own interior design firm and has appeared on shows for The Style Network and HGTV.
Netflix's Fab 5's popularity is skyrocketing as well, partly thanks to their natural chemistry and easygoing rapport. And the good news is, they really like each other! "We felt something special. We were weirdly finishing each other's sentences. We're all different, but we get along really well," Antoni told E! News. "And like social media, it's such a fun platform to troll on each other's accounts and support each other, bring each other up, down, and pick each other back up again."
Thankfully, fans won't have to rely on social media for too long to get a taste of the Fab 5 and their uplifting, life-altering ways. There's just about three weeks until Season 2 hits Netflix and they're back in fabulous action.