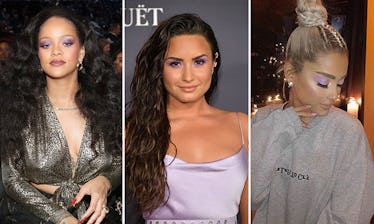 Purple Eyeshadow Looks Are Blowing Up On Pinterest & They're Super Easy To Recreate
Christopher Polk/Getty Images Entertainment/Getty Images, Neilson Barnard/Getty Images Entertainment/Getty Images, chrisappleton1 on Instagram
I utilize Pinterest for everything. I create fashion-inspo boards for every trip I take, ones for vacations I want to go on, others for DIY tricks I want to try, and of course, tons of boards packed with makeup inspiration. Though I look to it for a ideas of how to wear my eyeshadow to a wedding, or girls' night out, I never stopped to wonder what the millions of other beauty junkies are pinning on their makeup-inspiration boards. Well, Pinterest gathered data in a global report and it turns out purple is one of fall 2018's eyeshadow trends. According to their statistics, the trend has grown by 52 percent in the US.
Fun fact: According to their beauty breakdown, green eyeshadow is trending in Germany, blue is the big color in Mexico, silver is the go-to in the UK, and rose gold is huge in Australia.
It's no surprise we're all loving eyeshadow in all shades of purple, from soft lavender to sparkly plums — celebrities been spotted wearing the standout hue on red carpets for a while now. Demi Lovato wore a lilac smoky eye to the InStyle Awards last year. Even Rihanna wore a purple ombre shadow to the Grammys earlier this year.
I wore a single lavender shade of eyeshadow on my lids at Coachella this April. And I' not saying I wore it first, but I noticed a photo of Ariana Grande wearing a similar look circulating soon after I posted my picture. She might've worn it better, but dare I say I wore it first?
But the truth is, it doesn't matter who wore it first. All that matters is that we all try the eye-catching makeup look. Luckily for us, there's a slew of purple eyeshadows on the market. Here are some of the prettiest shades:
Anastasia Beverly Hills Norvina Eyeshadow Palette ($42; sephora.com)
Urban Decay Eyeshadow in Psychedelic Sister ($20; sephora.com)
Sephora Collection Colorful Shadow & Liner in 31 Lilac Shimmer ($14; sephora.com)
Tom Ford Shadow Extrême in TFX13-Red Blue ($36; sephora.com)
Stila Vivid & Vibrant Eye Shadow Duo in Amethyst ($20; sephora.com)
Too Faced Tutti Frutti Razzle Dazzle Berry Eyeshadow Palette ($34; ulta.com)
NYX Professional Makeup Vivid Brights Crème Color in Sugar Rush ($10; ulta.com)
Dose Of Colors Block Party Single Eyeshadow in My Jam ($20; ulta.com)
Obviously, the look has been making the rounds among your favorite celebrities for a while now, but you can be the first of your friend group to wear it. Before you know it, everyone will be rocking a lilac lid.
The best part about this purple eyeshadow trend is it's super easy to recreate at home. A single swipe (even with your finger) of a lilac shade along your lids is all you need to get the look. For added dimension, you can work a darker shade of purple in your crease with a fluffy brush, but that's only if you're feeling extra.