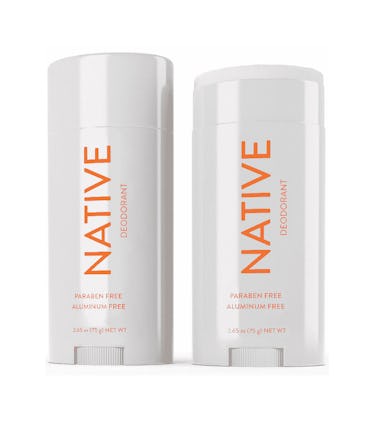 Pumpkin Spice Latte Deodorant Exists So You Can Literally Sweat PSL
Remember when pumpkin spice lattes were limited to just, well, pumpkin spice lattes? Neither do I. The trend has come so far, permeating everything from non-Starbucks beverages to Halloween costumes, but this newest item takes the cake. Pumpkin spice latte deodorant is now available because why not smell like your beloved autumnal beverage?
Native is the natural deodorant brand behind this trendy fall favorite. The company boasts aluminum-free and paraben-free products, ingredients found in some other deodorants which can be harmful to the body. Native says that its products are "made with ingredients you can pronounce," plus they, "never test on animals, except humans who volunteer to test Native." And with all of this natural goodness, it still promises to be a reliable deodorant and anti-perspirant!
Native's deodorants are made from shea butter, jojoba oil, beeswax, baking soda, coconut oil, castor bean oil, Vitamin E, probiotics, and other natural ingredients. All of the different scents are also created using natural ingredients. Basically, if you opt for the Coconut & Vanilla deodorant, you can relax knowing that it's actually scented with coconut and vanilla. And on top of that, there's a whole selection of options for particularly sensitive skin, including an unscented deodorant.
Due to the natural ingredients used in their products, Native has a few fragrances that are seasonal, including Lime & Coconut, Strawberry & Rhubarb, Hibiscus & Mint, and, the real reason you're here, Pumpkin Spice Latte!
This fall-friendly deodorant advertises "notes of pumpkin, cinnamon, nutmeg, and clove." Basically a pumpkin spice latte in a stick, which you can neatly apply to your underarms. Rest easy that if your extra-hot PSL makes you sweat a little, you'll only smell more like the drink!
In more good news, this is actually not the first year that Native has blessed this world with pumpkin spice latte deodorant. They brought it back for 2018 because it was that popular. A company that listens to its customers, now that's something I can get behind. When the spicy scent was first released in 2017 it coincided with a Starbucks gift-card giveaway, so here's hoping they'll reinstate the sweepstakes, too.
Fingers crossed!
If you're thinking, "Who would actually buy this deodorant?" The answer: Twitter.
#NEED.
One fan of Native gave a first-hand review of the product, "Unlike most natural deodorants, this deodorant keeps me fresh all day."
One PSL-lover has been using the deodorant since it's first release in 2017: "It's good stuff! Currently using the Pumpkin Spice scent, because duh!"
"Is Pumpkin-spice scented deodorant taking this whole thing a step too far?" Maybe, but YOLO, so embrace it.
One user tweeted his love for the trend: "I tend to think anything pumpkin spice is categorically acceptable. So, where can I buy this deodorant?"
I guess Native beat them to it!
Friends don't let friends not buy pumpkin spice deodorant, am I right?
"They make pumpkin spice deodorant now in case you need more of a fix," wrote one Twitter user. And yes, yes I do.
Native Deodorant: Pumpkin Spice Latte (Limited Edition)
This PSL deodorant sells $12 and it's limited-edition, so try it out while supplies last! You know you want to.
If pumpkin spice lattes are basic, I don't want to be different.