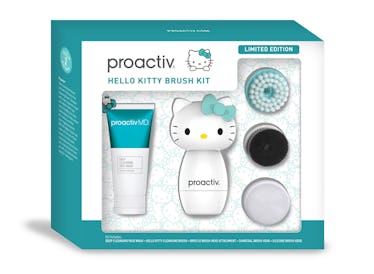 This Proactiv Hello Kitty Set Is For All The Beauty-Loving Cat Ladies Out There
Courtesy of Proactiv
Working to get clear skin can be a chore, so I'm into anything that will make it a little more fun. I never thought it could be this enjoyable, though. Proactiv's Hello Kitty Brush Kit is the newest offering from the skincare brand and I'm here for it.
Maintaining healthy, blemish-free skin can be frustrating. There are so many harsh products out there and it's often hard to know which one is best for you. Many acne treatments dry out your skin, and others aren't strong enough. Plus, who wants a shelf full of non-aesthetically pleasing zit products killing the vibe on your otherwise pretty vanity? Not me. Luckily for all of you out there who are prone to pimples (and really, who isn't?), Proactiv has just released the first photo of their upcoming Hello Kitty set!
Hello Kitty, everyone's favorite Sanrio cat, has an almost literally infinite number of merch made in her honor. Puma's Hello Kitty sneakers recently rocked the fashion world, you can eat Hello Kitty food at Universal Studios, there's even Hello Kitty furniture at PBteen, I could go on and on. Proactiv's brush set may be the most useful Hello Kitty merch releases yet, however, and I can't wait to get my paws on it.
Proactiv Hello Kitty Brush Kit
The teal Hello Kitty-themed set is a limited-edition release and will be sold by Ulta in November 2018. The set will retail at $70 which is legit an awesome deal. A single-head (non-cat) brush typically sells for $55 (proactiv.com) and the face cleanser for $30 (proactiv.com). This box set also includes a cute-as-can-be Hello Kitty electric cleansing brush with three changeable brush heads. Theres' a bristle brush for your daily cleanse, a charcoal head to brighten your complexion, and a silicone brush head for exfoliating and improving your skin's texture and feel. The only thing this set is missing is an actual cat, but I guess you can't always have everything.
Sigh...
Jill Koch, Senior Vice President of Licensing and Business Development at Sanrio, Inc. (Hello Kitty's company) is equally excited as I am about this upcoming partnership. In a statement to Popsugar, Koch said,
Proactiv is a leader in skincare innovation and cleansing products, we look forward to launching our partnership with Proactiv later this year to offer a new limited-edition Hello Kitty Brush Kit that will bring smiles to our fans, along with healthy-looking skin.
I can't wait, either!
Is it November, yet?
ProactivMD Deep Cleansing Face Wash
If you're new to Proactiv and want to try out their face wash before you commit to this full-on, feline set, or if you just can't hold out until November, no problem! Right now at Ulta, you can get the fan-favorite Proactiv cleanser on its own. Give it a go and, if Proactiv customer reviews tell me anything, you won't be sorry.
Set a remind for this fall because come November, when this set is released, I bet it won't be around for long. It's limited-edition which is also code for while supplies last.