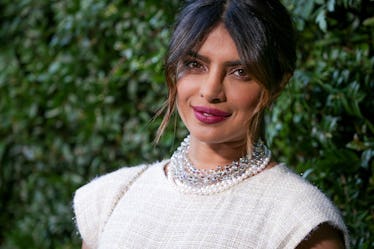 Here Are All The Details On Priyanka Chopra's Wedding Glam, From Her Bold Lip To Her Markle Messy Bun
Rich Fury/Getty Images Entertainment/Getty Images
We've talked about the first dress, and the second dress, and the 75-foot-long veil, and the part where Nick Jonas cried. Now, I'm finally ready to start talking about the tinier details of Jonas and Chopra's wedding festivities, particularly Priyanka Chopra's wedding makeup and hair, which were both on point throughout her entire lengthy wedding weekend. Priyanka's been serving looks on the red carpet for years, so it's safe to say she's had her fair share of trial runs when it came to determining the beauty looks that suit her. (Although, TBH, she looks great in pretty much everything.) That said, I'm hardly surprised that she absolutely nailed her bridal glam, and looked radiant on her big day. Like, Nick-Jonas-wiped-tears-from-his-eyes radiant. I'm accrediting those tears to how great her makeup looked, don't argue with me.
As we all know by now, Chopra blessed us with two totally different bridal looks this past weekend, one for her Western ceremony, and one for her traditional Hindu ceremony. Both ensembles were nothing short of gorgeous, and of course, the beauty looks had to be up to par with the fashion. A photo from their Western ceremony graces the cover of this month's People magazine, and it's a clear shot of the makeup Chopra wore to say "I do."
Seriously, has there ever been a more beautiful couple?
First things first, let's give credit where credit is due: Chopra is most definitely wearing an updo similar to the classic Meghan Markle messy bun in this photo. It's so similar to Markle's wedding day look, and in fact, not unlike the bridal vibes Princess Eugenie served a few months ago, either. I mean, that middle part! The wavy tendrils framing the face! The lengthy veil! Patterns, people!
No, really, let's talk about the veil. Markle's was 16.4 feet long, while Chopra's was an impressive 75 feet. Check it out for yourself:
And of course, equally as beautiful as her hair was her Western ceremony makeup, all of which, according to InStyle, was supplied by Marc Jacobs Beauty and applied by makeup artist Yumi Mori. Mori made a post on Instagram breaking down the entire look, including every product he used to achieve the flawless look.
Chopra wore the brand's Shameless Foundation ($46, marcjacobsbeauty.com) in shade "Y470," but perhaps the most iconic part of the look was her bold berry lip, which Mori says is none other than the Le Marc Lip Crème Lipstick ($30, marcjacobsbeauty.com) in shade "Boy Gorgeous." I have a feeling that berry lips are about to become the next big bridal beauty trend, especially for brides looking to make a statement like Chopra.
In fact, Chopra wears a similar hue quite often, and it really suits her complexion:
While her MUA was generous enough to spill all the deets on Chopra's Western ceremony beauty look, there haven't been many up-close shots of her Hindu ceremony glam released yet. She did post a photo to her Instagram, where it looks like she's rocking a sultry matte brown eye look and a reddish lip to match her Sabyasachi lehenga. Her hair is covered by a gorgeous hand-embroidered red veil. Through the sheer veil, we can see that Chopra is wearing a nose ring with a chain that travels up and is fastened into her updo. Nose rings are a major part of Indian bridal jewelry tradition, and it's believed that the piercing honors Parvati, the Hindu Goddess of marriage.
TBH, Chopra herself looked like a goddess on her wedding day, and I'm loving both of her bridal looks. Kudos to Marc Jacobs for that killer Western ceremony glam, though, because I think I've found my new favorite lipstick.