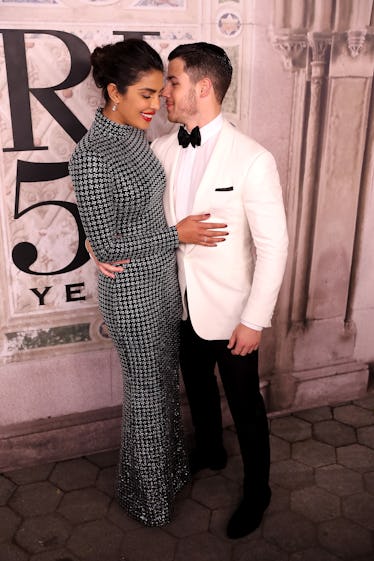 Priyanka Chopra Dropped Hints About Her Engagement Ring For Nick Jonas In The Cutest Way
Rob Kim/Getty Images Entertainment/Getty Images
When you've finally found The One, it's pretty normal to want to lock it down real quick. And the best way to do that is to give subtle reminders to your significant other that, once they're ready, you have something sparkly in mind. It's also pretty normal to have a very specific idea of what you'd like that sparkly thing to look like, too. And for Priyanka Chopra, it was seemingly no different (celebrities: they're just like us!) when it came to what she wanted in an engagement ring. Honestly, Priyanka Chopra's comments about giving Nick Jonas hints for proposing are actually so relatable.
According to People, Chopra said that she gave her fiancé, singer Nick Jonas, some clues to help point him in the right direction when it came to picking out the engagement ring of her dreams.
At the Tiffany & Co. 2018 Blue Book Collection in New York on Tuesday, Oct. 9, she said, "Well, I may have dropped that hint... I think we had a conversation about it when we were dating and I've always known it had to be Tiffany."
May have mentioned it? C'mon Priyanka, don't be coy. You definitely mentioned it.
"I just knew it since I was a kid," she explained. "First, it was Breakfast at Tiffany's that did it for every girl in the world and then, of course, Sweet Home Alabama came and put a stamp on it that it has to be Tiffany!"
Ah, yes. Who could forget when Andrew (played by actor Patrick Dempsey) blindfolded girlfriend Melanie (played by actress Reese Witherspoon) and brought her to the Tiffany & Co. flagship store on Fifth Avenue in N.Y.C. that he rented out and got down on one knee.
That's #proposalgoals right there.
Chopra continued, telling the publication, "Since I was a little girl, it was just something that was stuck in my head and I may have said that and I guess he remembered."
And, even though Jonas didn't shut down a Tiffany store to propose to Chopra in, he did get her rock from the only store she wanted her diamond from. "No, I wasn't there, he and his brothers went and did a whole thing to buy the ring for his future wife," she told People. Which, if I'm being honest, is close enough.
After just a few months of dating, Chopra and Jonas reportedly got engaged on July 18, which was Chopra's 36th birthday, while visiting London. At the time, a source told People that "they are so happy."
Then, in August, Chopra finally debuted her customized Tiffany & Co. stunner — a cushion cut diamond with tapered baguettes, posting a photo on Instagram and captioning it, "Taken.. With all my heart and soul."
It's like, I don't know them...but I'm just so happy for them?
And even though they got engaged rather quickly, it seems like Chopra's family is nothing but happy for her. In an interview with DNA India, Chopra's mother, Madhu, talked about her daughter's engagement to Jonas. "I always trust Priyanka's judgment; she's not impulsive. She gave it a lot of thought and when she decided on something, I was sure it would be good... Nick is calm and mature. He's a wonderful person and everyone in the family just loves him. He's so polite and respectful towards elders." She added, "What more can a mother want!"
I think we can all agree that Chopra's mother has spoken on behalf of the entire universe. There is nothing more we could want than to see these two walk down the aisle. Cheers to the happy couple!