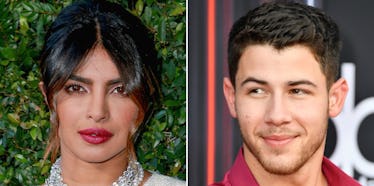 Priyanka Chopra Got Flirty With Nick Jonas On Instagram, So The Feelings Are Mutual
Rich Fury/Frazer Harrison/Getty Images
Never in my wildest dreams did I think Priyanka Chopra and Nick Jonas would be a thing, but Priyanka Chopra and Nick Jonas are reportedly a thing, and God is real. Us Weekly reported on May 29 that the stars are "dating and it's brand new." Neither Priyanka nor Jonas explicitly addressed the reports and Elite Daily reached out to their teams for comment, but did not hear back by the time of publication. Now, Priyanka Chopra's comment on Nick Jonas' Instagram seems to be the proof we were looking for that this new Hollywood couple is actually a thing.
Jonas posted a photo of himself and DJ Mustard on May 31 that simply said, "interviews @mustard." Chopra left a comment on the post that can only be defined as flirty. She commented with the double pink heart emoji and a flame emoji. You don't comment that on the Instagrams of guy friends, people. These two are officially a thing.
But wait, there's more! Jonas commented on one of Chopra's Instagrams with an even more flirty comment, making one thing absolutely clear: they're into each other. On June 3, Chopra posted a photo of her and two friends laughing and eating In-N-Out burgers (yum). She captioned the post, "Burgers and Chanel...my favourite combo with my fav girls."
Jonas commented on the post saying, "That smile" with a red heart emoji and I am shaking in my boots!!
Oh, and here's Priyanka's comment on Jonas' post:
I'm shook. And people on Twitter are also shook by this new celeb couple.
Rumors of their reported relationship surfaced when a source told Us Weekly that they're very much a thing. Before this, they arrived at the 2017 Met Gala together, which originally sparked the rumors that they were more than friends. But, unfortunately for celebrity couple conspiracy theorists (me), she said it was a chill decision at the time. Chopra appeared on Jimmy Kimmel Live and talked about their joint Met Gala appearance, saying,
Yeah, we were at the same table. I mean, we know each other. So, he was like 'Hey, you wanna go together?' And I was like, 'Yeah, OK, let's go together.' So, it just ended up working out.
Tell me more, Priyanka!
Now things have taken a turn for the romantic. The source told Us Weekly, "They are dating and it's brand new. It's a good match and they are both interested in each other." Another source told People, "They're flirtatious and have been hanging out and text all the time."
They were recently seen attending the Beauty and the Beast Live concert at the Hollywood Bowl on May 25 and attending an L.A. Dodgers game the next day. Two dates in a row?! An eyewitness from the Hollywood Bowl told Us Weekly,
They walked in together just before the performance was starting, they looked great together, but no hand-holding or obvious PDA … The two were seen heading to the concessions stand during intermission before returning to their seats to finish taking in the show. They snuck out right as the show was ending.
Another eyewitness at the Dodgers game told Us Weekly,
Priyanka and Nick were talking really closely and were very smiley and very happy. They weren't trying to be private as they were in a pretty public place, but they were talking to people around them, sitting closely and they both just seemed super happy.
Elite Daily reached out to Chopra and Jonas' teams for comment on this report, but did not hear back by the time of publication.
Honestly, I'm going to throw up, I love this so much. I don't know why I love it so much. I just do. And I think we can safely say that we're officially at the point where these two don't mind if the world knows about whatever their fling is. Are they a couple? Are they just hooking up? Why do I simultaneously feel jealous of Priyanka for dating Nick and jealous of Nick for dating Priyanka? Find out next week on Days of our Lives.