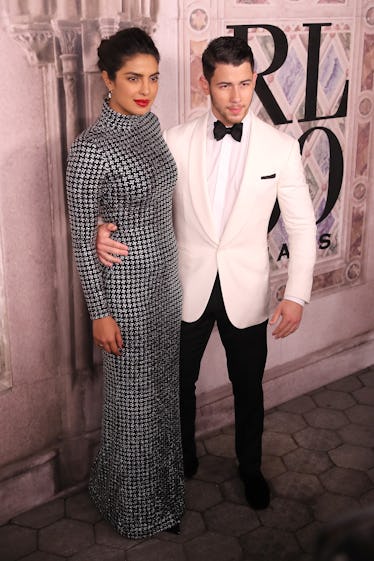 Priyanka Chopra & Nick Jonas Reportedly Just Took A Major Step On Their Road To Marriage
Rob Kim/Getty Images Entertainment/Getty Images
The big wedding day may be coming soon for Priyanka Chopra and Nick Jonas! According to a new report from People, the loving couple was recently spotted at a courthouse last week and that can only mean one thing: Priyanka Chopra and Nick Jonas got their marriage license — well, if the reports are true, that is. So, Chopra and Jonas may be taking the next step in their marriage journey and things can only get more exciting from there! Elite Daily reached out to Chopra and Jonas' teams for comment on the report, but did not hear back by the time of publication.
People's report, which was published on Thursday, Nov. 8, refers to The Blast as having broken the news. According to The Blast's report, sources close to the situation revealed that Jonas and Chopra "showed up last week to the Beverly Hills Courthouse and filled out the paperwork to obtain a marriage license."
That's exciting news! And it definitely puts into perspective just how close their big day is. According to an Oct. 24 report from Us Weekly, Jonas and Chopra are slated to marry sometime in December. And they're reportedly going to India to exchange vows.
"The wedding is happening in India in December," Us Weekly's source revealed in the report.
Now, you may be wondering why they would bother to get a marriage license in the United States when they're heading to India to tie the knot. Well, according to a source for The Blast, Jonas and Chopra are hoping to make the marriage official in both countries.
According to The Blast, "the couple plans on bringing the license with them to India for their wedding in December and then eventually filing the license in the U.S. to make the marriage official in both countries."
So, Jonas and Chopra truly have this all figured out. And the fact that they've pulled this wedding together in just a few months is nothing short of amazing.
As for their India-based wedding plans, well, it looks like that's been in the works for a little while, too. Back in August, the couple traveled to India to bring their families together before they officially got married. At the time, a source close to Jonas and Chopra told Us Weekly that having the families meet in that way was a tradition.
"It's a tradition to go and meet the family before the wedding," the source said, later adding that Chopra, "wants an Indian wedding." They also said that "Nick is super supportive of her and he's thrilled."
And in another report from Us Weekly from September 2018, a source explained that Jonas and Chopra had their eye on a wedding ceremony that blended both their cultures. "They really want to blend wedding traditions from both of their cultures that are important to them," the source explained. "Priyanka is having a really good time planning the wedding because it's a mix of Indian and American styles and customs, which she knows so much about."
This wedding is shaping up to be quite an event! I'm sure it's going to be a beautiful ceremony. Can't wait to see the photos!