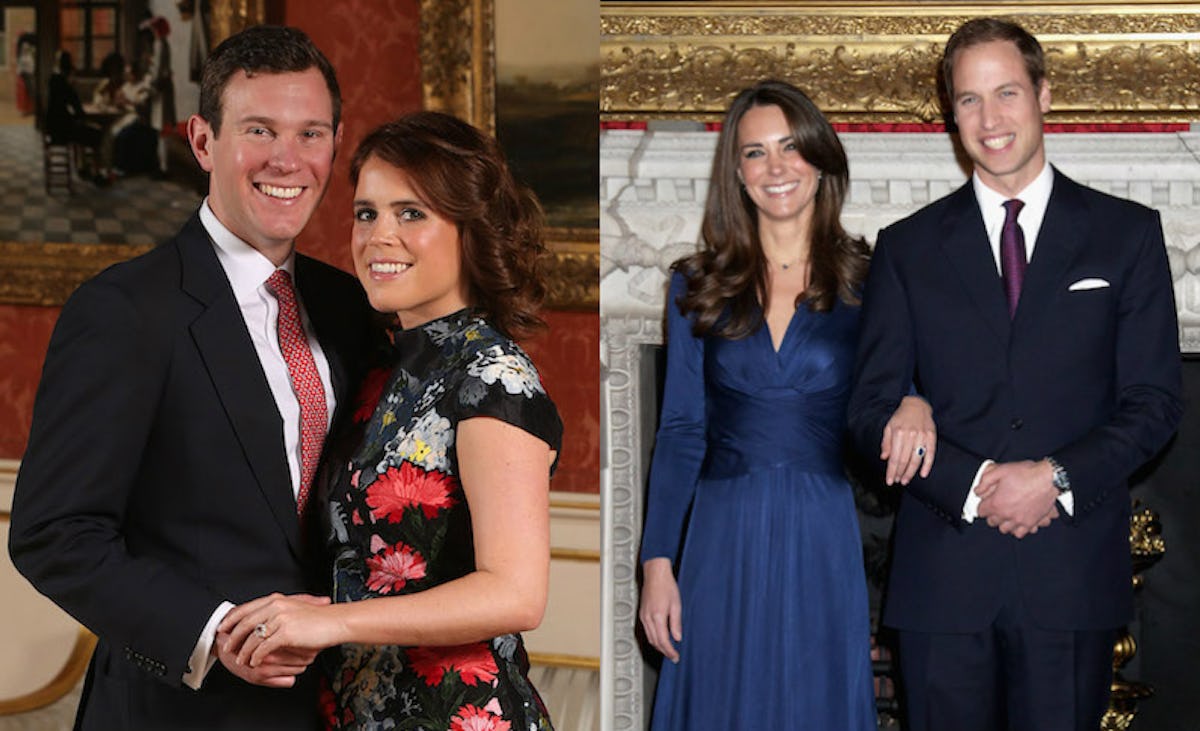 Princess Eugenie's Wedding Had Major Differences From Prince William & Kate Middleton's
WPA Pool/Getty Images Entertainment/Getty Images/Chris Jackson/Getty Images News/Getty Images
It might seem like Prince William and Kate Middleton have been married forever. Well, it has been over seven years since their April 2011 ceremony at Westminster Abbey, but that won't stop curious fans of the royals from wondering how Princess Eugenie's wedding compared to William and Kate's wedding. From the looks of it, Princess Eugenie of York and Jack Brooksbank Oct. 12 nuptials and celebration weren't quite as similar as her first cousin's wedding on April 29, 2011.
First of all, William and Kate went the pomp and circumstance route with their wedding at Westminster Abbey in London. When Prince William, the second in line to the British Crown, wed Kate Middleton, to make them the Duke and Duchess of Cambridge, nearly 1 million people lined the streets of London to watch the highly anticipated affair. Alternatively, the more pared down ceremony of Eugenie and Brooksbank at St. George's Chapel at Windsor Castle on Friday, Oct. 12 was a much more intimate crowd of 850 people.
Another differing feature of the two celebrations was their respective carriage rides following the wedding ceremonies. While both of them were equally beautiful, Eugenie and Brooksbank's ride through Westminster was decidedly more low key than the ride from Westminster Abbey to Buckingham Palace that William and Kate took in April 2011, aka the one that ended in that now-famous kiss (times two).
Christopher Furlong/Getty Images Entertainment/Getty Images
Handout/Getty Images Entertainment/Getty Images
While Eugenie and Brooksbank didn't ride amongst millions of Londoners and fans of the royal family, they did take their own lovely ride through Westminster to 1,200 of people in the crowd following their wedding ceremony.
One similarity that was a hallmark of both weddings was the Queen's reception following the carriage ride. In 2011, Queen Elizabeth hosted the reception for William and Kate right there at Buckingham Palace. For the her granddaughter Eugenie and her new husband, the Queen hosted an afternoon champagne reception at Windsor Castle on Oct. 12, 2018. The Queen also held the champagne reception for Prince Harry, Duke of Sussex, and Meghan Markle, Duchess of Sussex, on the grounds of Windsor Castle following their nuptials on May 19, 2018. The Queen seems to know that every great tradition involves champagne, eh?
OK, back to William and Kate's big day. For their nighttime reception, 300 guests convened at Buckingham Palace for a buffet dinner and a night of dancing, per ABC News. Back in 2011, Kate changed from her Alexander McQueen gown to a strapless Sarah Burton evening gown in white satin.
Eugenie did not change from her Peter Pilotto and Christopher De Vos gown for the 400-person reception yet, which will take place at the Royal Lodge in Windsor, per The Telegraph.
It might not be a Buckingham Palace party, but a gathering with 400 of your closest pals at the country house of Eugenie's father, Prince Andrew, Duke of York, sounds like a pretty great way to celebrate an important day.
Another way you can tell it was a pretty big event? The whole ceremony was live streamed on television, just as William and Kate's wedding was on April 29, 2011. From the looks of it, these royal cousins sure now how to throw the perfect bash. I'll keep an eye out for my invite to the next one!