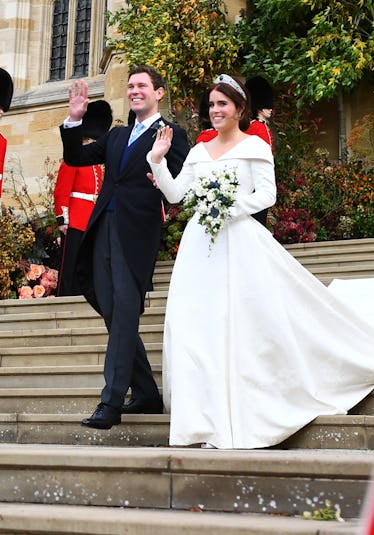 Here's What Eugenie & Jack Said To Each Other Before Kissing At Their Royal Wedding
WPA Pool/Getty Images Entertainment/Getty Images
Congratulations are in order for Princess Eugenie of York! She's officially a married royal after tying the knot with her longtime love Jack Brooksbank in St George's Chapel at Windsor Castle early this morning. And let me tell you about Princess Eugenie and Jack Brooksbank's first kiss as a married couple: It was beyond cute.
After exchanging their vows in St George's Chapel, Princess Eugenie and Jack Brooksbank exited the chapel and appeared on the steps to share a quick kiss in front of a crowd of well-wishers who gathered to watch their wedding. It's what Princess Eugenie reportedly said to Brooksbank before the kiss that has everyone saying, "Awwwww."
"Do you want to kiss?" Princess Eugenie asked Jack before the newlyweds did just that, according to a report by People. And according to Cosmopolitan, the couple also said "It's our first time," and "Careful, don't fall!" How cute.
It's pretty clear Princess Eugenie and Jack Brooksbank share a ton of chemistry, which makes sense, considering they were together for seven years before they married on Oct. 12. Princess Eugenie met Brooksbank in 2010 during a skiing holiday in Verbier, Switzerland, according to Express. Princess Eugenie's father, Prince Andrew, reportedly owns a ski chalet there, which is, y'know, pretty casual for a royal.
Here's a photo of the sweet moment they kissed:
And here it is close up:
And here it is from the back:
And here it is from the back again, but close up (for good measure):
Ummm, I'm feeling attacked right now from all this cuteness!
The pair has been inseparable ever since they met, and that makes sense since, according to Princess Eugenie, the pair fell in love from the moment they laid eyes on each other.
"It was love at first sight," the Eugenie told ITV News about the pair's first meeting on Thursday, Oct. 11, during a pre-wedding interview. "[I saw him staring at me] and I thought, 'What a silly hat!' and I thought, 'Who is that?' And then you came over and shook my hand. I was all butterflies and nervous. I think I rang my mom that night and said, 'I just met this guy, Jack.'"
And if you had any doubt that Princess Eugenie was totally and utterly in love with Brooksbank, just listen to the way she describes him. "Jack is the kind of guy… You know when you're lost at a party and you can't find anyone to talk to and you're panicking and you need help?" Princess Eugenie gushed to ITV. "He'll walk in and make everyone feel special, and he'll scoop you up and talk to you and make you feel a million dollars. And that's you. You're so humble and generous and just that person where you immediately have a friend."
I'm swooning, guys. Literally swooning.
Eugenie and Jack are definitely joining a developing list of romantic royal first kisses. Prince Harry and Meghan Markle, Duke and Duchess of Sussex, shared a similar, beyond adorable kiss when they walked out onto the very same steps of St George's Chapel.
And let's not forget Prince William and Kate Middleton, Duke and Duchess of Cambridge's, first kiss!
Welcome to the royal kiss club, Eugenie and Jack!