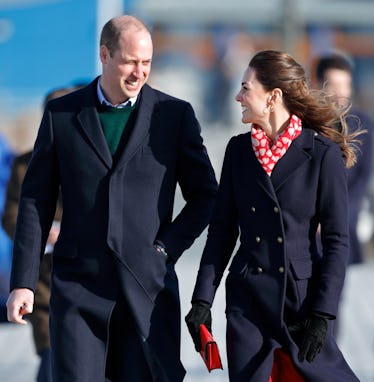 Will Slyly Gave Kate The Most Romantic Compliment
Max Mumby/Indigo/Getty Images Entertainment/Getty Images
I'd highly recommend having a mop on standby because your heart is about to melt into a giant puddle on the floor after hearing this latest update from the royal family. In a conversation with a fan, Prince William called Kate Middleton "lovely" and gave a sweet shout-out to their daughter, Princess Charlotte. The exchange took place during Will and Kate's visit to the south of Wales on Feb. 5.
As Kate and William reportedly arrived on a pier, People reported they were greeted by tons of adoring fans. One woman in the crowd reportedly told Will that Charlotte was her "favorite." To this, the prince reportedly had pretty much the cutest response ever: "Yes, she is lovely — just like my wife."
While this might not be the most dramatically swoon-worthy thing a person has ever said about their life partner, it rates pretty highly on the PDA scale for this famously private, low-key couple.
So, outside of Kate's reportedly "lovely" disposition, what makes their marriage work? "They look after each other but in different ways," a friend of the couple's reportedly told People on Dec. 18. "Some people might say it's an old-fashioned marriage, but it seems to work." The same source also reportedly noted, "They have different roles, but they come together as a team."
A senior royal source also reportedly chimed in to explain exactly how the two work beautifully as a team. "They are a great double act," the senior royal source reportedly told People. "People make much of William giving the big speeches, but Kate is there, too, asking questions of presidents and their wives. These things are easier when they are side-by-side."
A partner who also perfectly complements all of your qualities? That sounds... dare I say it... lovely.