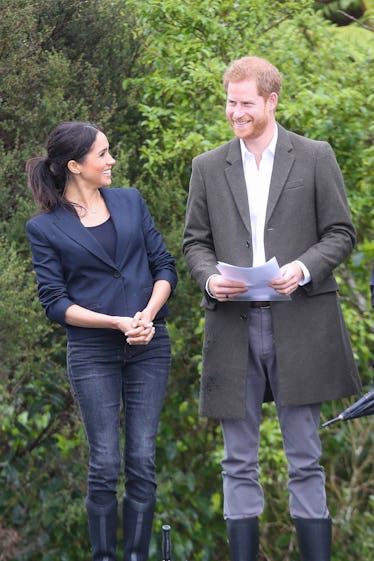 Prince Harry Reportedly Said This One Very Intense Thing About Meghan Markle Before His Wedding
Chris Jackson/Getty Images Entertainment/Getty Images
I think we can all agree Prince Harry and Meghan Markle (also known as the Duke and Duchess of Sussex) aren't your typical royal couple. Aside from the fact that the duchess is a famed American actress, the couple isn't afraid to show a little PDA, and they didn't shy away from embracing their different heritages during their groundbreaking royal wedding ceremony in May. Prince Harry's reported quote about Meghan Markle before their wedding goes to show exactly how they were able to pull off a ceremony so close to Meghan's heart.
The Daily Mail found an excerpt from the new book, Charles at 70: Thoughts, Hopes and Dreams, in which an inside source told the author, royal biographer Robert Jobson, that Harry was "petulant and short-tempered" with his staff during the time leading up to the wedding. So, yeah, you could say he was pretty stressed about making sure his bride had the perfect wedding she deserved. In fact, he was so incredibly worried about his wife-to-be's special day being anything short of perfect that he reportedly was known for raising his voice and exclaiming, "What Meghan wants, she gets!" (Elite Daily has reached out to Kensington Palace for comment.)
In fact, Meghan and Harry were both so stressed about the upcoming nuptials that they decided to take a "series of appointments with Ross Barr, known as 'the acupuncturist to the stars,'" in order to relax.
The book also reported that one of the things Meghan wanted from her husband-to-be was for him to bond with his father, Prince Charles. Meghan wanted Harry to be closer to his dad and, obviously because of his allegedly intense commitment to giving his bride to whatever her heart pleases, he reportedly started logging in some quality time with his dad. Meghan, herself, was also reportedly able to win over the heart of her father-in-law-to-be. Jobson reports Charles has been bragging to his friends, "She is so intelligent and so nice. She makes Harry happy. We could not like her more."
Now that the two are officially wed, they haven't been any less in love. In fact, just recently during a trip to Fiji, Harry reportedly toasted his newly pregnant wife with water as his means of supporting her. He also made a pretty freaking adorable statement on behalf of his family during a recent speech he made at the Abel Tasman National Park in New Zealand. Watch it for yourself below and prepare to swoon:
For those of you who missed it, here's what he said: "from myself and my wife and... our little bump, we are so grateful to be here." And then there was the adorable smile he made at the end after he said "our little bump."
I have a feeling this is going to be a lifetime of support and love for this couple — not that you'd expect anything less from the incredibly devoted, seemingly in-sync pair.
Check out the "Best of Elite Daily" stream in the Bustle App for more stories just like this!