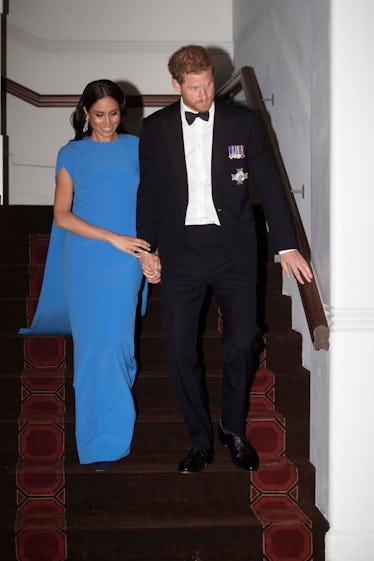 Prince Harry Reportedly Toasted With Water To Support Meghan Markle & I'm Swooning
Pool/Getty Images Entertainment/Getty Images
I like to make myself feel better about the fact that I'm realistically never going to marry a prince by telling myself that being married to royalty wouldn't be that great. I mean, a prince would probably be too busy doing royal stuff to really be the doting, attentive husband I know I deserve. But, alas, one couple is proving me wrong. Despite him, you know, being the potential future king of England, Prince Harry consistently continues to be pretty much the best husband to Meghan ever. Most recently, Prince Harry reportedly toasted with water instead of an alcoholic beverage, in support of his pregnant wife who is, for obvious reasons, refraining from drinking alcohol at the moment. (Elite Daily has reached out to Kensington Palace for comment.)
The adorable display of his affection took place at a black-tie reception hosted in Fiji hosted by the Fijian prime minister Frank Bainimarama. You know, just a typical Monday night for these newlyweds.
Reporter Omid Scobie took to Twitter to tell everyone about Harry's adorable way of supporting his wife. After announcing their arrival at the event, Scobie wrote, "Meghan and Harry both toasting with water at tonight's reception (@FIJIWater, natch)." (Because, I mean, if you're toasting with water at the Fijian prime minister's house party, you can bet your bottom dollar that water is going to be FIJI brand.)
Now, of course, there's no way of knowing for sure that the water toast really took place as there's no video or photographic footage but, that being said, many of us (myself included) are choosing to take Scobie's word for it. And, boy, oh, boy, are people pleased to hear that Harry is actually as supportive of Meghan as they'd dreamt he'd be.
People all over Twitter decided to make their appreciation for the kind act known.
"Nice Good Job Harry Supporting Meg During her pregnancy," one user wrote.
"That's a supportive husband," echoed another.
"So romantic," wrote someone else. "I love him even more now"
"#CoupleGoals," wrote another user.
Honestly, the whole thing really is so adorable. What I, personally, love about it the most is the fact that it's not a huge act. It's so small. So subtle that many people could have easily missed it. But he did it anyway because he's willing to share any small reminder with his wife that she's not alone. They really are in this together.
According to Scobie, Prince Harry also made a not-so-subtle display of his affection for his wife by explaining to the people at the event why the hotel he was staying at was particularly special for him and his new bride. "This visit is particularly nostalgic for us as a young married couple – my grandparents stayed in this very hotel, the Grand Pacific, a number of times over the years," he reportedly shared with the crowd.
So... yeah. He's supportive and he's sentimental. It turns out marrying a prince doesn't mean you have to sacrifice any of the mushy parts of a relationship, after all.
Check out the "Best of Elite Daily" stream in the Bustle App for more stories just like this!