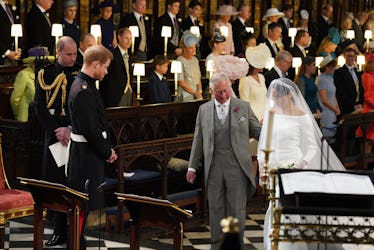 Prince Harry Opened Up About The Moment He Asked His Dad To Walk Meghan Down The Aisle
WPA Pool/Getty Images Entertainment/Getty Images
Do you remember the sweet moment during Prince Harry and Meghan Markle's May 2018 wedding when Prince Charles walked Meghan down the aisle? Of course you do! It was iconic! Mostly because Meghan walked her damn self down most of the aisle, and then Prince Charles met her halfway, but it was still as sweet a moment as ever. The Duke of Sussex has now revealed his father's reaction to him asking to stand in Thomas Markle's place, and Prince Harry's comments about Prince Charles walking Meghan Markle down the aisle are sure to hit you right in the heartstrings.
In a BBC One documentary airing on Thursday, Nov. 8, titled Prince, Son and Heir: Charles at 70, Prince Harry says his father's immediate reaction to his request was to help in any way he could. "I asked him to and I think he knew it was coming," Prince Harry says in the documentary, "and he immediately said, 'Yes, of course, I'll do whatever Meghan needs and I'm here to support you.'" Awww!
Prince Harry continues, "For him that's a fantastic opportunity to step up and be that support, and you know, he's our father so of course he's gonna be there for us."
Meghan Markle's father, Thomas Markle, couldn't make it to the wedding reportedly due to heart issues. Instead, Meghan walked herself through the first half of St George's Chapel, and then Prince Charles met her halfway and walked her to the altar.
It was a gorgeous moment at the beginning of the ceremony.
Seriously, gorgeous.
When Meghan and Charles got to the altar where Prince Harry was waiting, the Duke of Sussex said quietly to his father, "Thank you, Pa."
Prince Harry comments on this second sweet moment with his father in the documentary, according to People. "You've gotta say thank you. Just because he's my father that doesn't mean I can just sort of go, 'OK, that's all, I'll take it from here,'" he joked. "Err, no, that is what I wanted to say but erm… and I was very grateful for him to be able to do that."
Camilla, Duchess of Cornwall, is also featured in the documentary and comments on the same "Thank you, Pa," moment from Prince Harry and Meghan's wedding.
"I think that was very touching," she says in the documentary. "Sitting where I was, you couldn't hear what he said. But afterwards watching it on the television, I… I think it was a very… it was a lovely gesture."
The duchess also talks about the moment during the wedding when Prince Charles and Doria Ragland, Meghan's mother, walked arm-in-arm to sign the wedding registry in a private room.
"A lot of people, seeing my husband actually take the bride's mother by the hand to sign the registry, it's something that moved everybody," Camilla says. "It's the things he does behind the scenes that people don't know about. I don't think people realize quite how kind he is."
Am I the only one who has always thought that Prince Charles was probably a pretty nice guy... ? Bueller? Bueller?