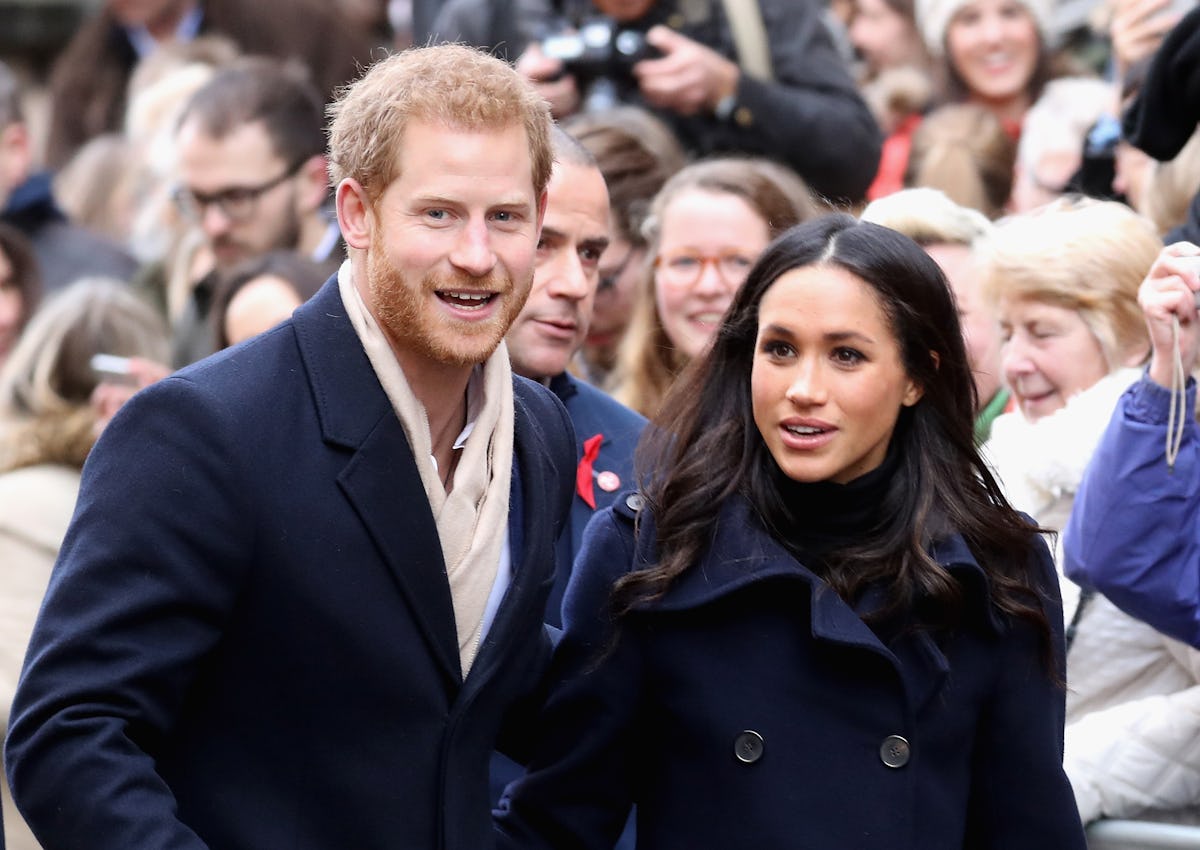 Prince Harry Reportedly Quit Smoking For Meghan Markle & They're Officially Perfect
Chris Jackson/Getty Images Entertainment/Getty Images
If you're currently feeling bitter about love and relationships, turn away ASAP. The world's cutest couple just managed to get even cuter. Prince Harry reportedly quit smoking for Meghan Markle, which means that they have now reached peak levels of perfection.
The prince has always had a bit of a cigarette habit. There's no smoking allowed in Kensington Palace but the royal tended to ignore those restrictions while in his cottage. That's all about to change, though. The Daily Mail reported that the prince is planning to quit smoking because he knows it bothers his fiance. *Sigh* True love, right there.
"Harry has promised no smoking at all at home. It's not nice for Meghan as a non-smoker," a friend of the couple reportedly said. "So there's no more hanging out of the window for a quick puff. Harry has quit for Meghan."
This all kind of adds up, because there's plenty of evidence that shows Markle is super healthy and active. The Suits star does yoga, eats clean, runs regularly, and drinks plenty of green juices. That definitely doesn't sound like someone who would want to be around a cloud of cigarette smoke.
"My health, my state of mind, the feeling you have after a workout; all of those things drive me to step onto my mat or go to the gym," she toldWomen's Health UK. "Sometimes the idea of working out sounds absolutely dreadful, but I always remind myself of how good it will feel afterward. Euphoric, almost!"
Side note: How amazing would it be to feel euphoric after a gym workout? I feel like my general emotions are usually exhaustion and Chipotle cravings.
Regardless, all of that clean eating and exercise is definitely working wonders.
It seems like the whole quitting smoking thing would be a no-brainer for Prince Harry. The royal speaks so, so effusively and lovingly about his soon-to-be wife, that you'd kind of imagine that he'd do anything for her. During the couple's first televised interview together on Nov. 27, the prince recalled,
I fell in love with Meghan so incredibly quickly — it was a confirmation to me that all the stars were aligned. This beautiful woman literally tripped and fell into my life. I fell into her life and the fact that she will be unbelievably good at the job part of it as well is obviously a huge relief to me because she'll be able to deal with everything else that comes with it.
Markle shared his sentiments — though she did note that some of her closest companions were a little nervous about her dating a royal.
"I'm sure the onset, both my parents and my close friends were concerned, because we got very quickly swept up in a media storm that, as I shared, was not part of my life before that, but they also had never seen me so happy," she said.
Oh yeah, and if you need even more examples of how loved up they are — just listen to their proposal story. The two were at their cottage, roasting chicken (natch), when he knelt down to pop the question.
"She didn't even let me finish, she said can I say yes, can I say yes and then were was hugs and I had the ring in my finger and I was like can I – can I give you the ring? She goes – oh yes the ring," Harry recalled.
So, basically, I guess we should all just move to England and marry a royal. It just seems like the right thing to do.