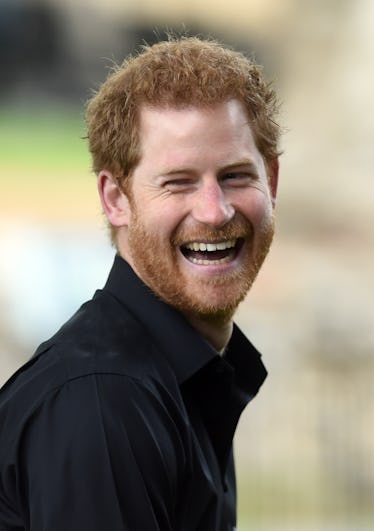 Prince Harry Used To Have A Secret Facebook, Apparently, & His Alias Will Make You LOL
Stuart C. Wilson/Getty Images Entertainment/Getty Images
It might be about time to start calling Prince Harry a different name, you guys. I say we go with something more elusive— perhaps something like Secret Agent Man. You may think that because he's British royalty, it means he's instantly known wherever he goes. But you'd be wrong in that assumption, because there's one place that Prince Harry may, at one point, have been hiding without anyone recognizing who he is. It's this little-known place called the internet — have you ever heard of it? Yes, you're reading this correctly. So do yourself a favor and go read through your old DMs, because you may have been speaking to a prince all along without even knowing it. That's right, the fact that Prince Harry's secret Facebook may have once been a thing has come to light, and his reported pseudonym will actually make you laugh out loud.
According to a 2012 report by The Telegraph, Prince Harry had a Facebook account during his college years, which had 400 friends of prominent British stature and could be found under the super secret spy name... wait for it... Spike Wells.
Elite Daily has reached out to Kensington Palace for comment on the report but has not heard back by the time of publication.
The Telegraph noted that the name is "in fact, a pseudonym used by Prince Harry, whose nickname is Spike, to keep in touch with friends."
And why the nickname Spike? Marie Claire noted that, "thanks to his old hairstyle, Harry's nickname from friends and family is Spike, which explains the pseudonym."
Huh. The more you know.
But get this: In 2012, the illustrious Spike Wells suspiciously removed his profile after images of Prince Harry partying in Las Vegas were leaked.
In case you don't remember, 2012 brought us the Prince Harry Las Vegas scandal, where grainy photos of a naked Harry showing off everything but his, erm, royal jewels were leaked online.
According to The Telegraph, the timing was awfully suspicious surrounding the two events. The article noted:
Last week, after the furore and privacy concerns surrounding the publication of naked pictures of the Prince partying in Las Vegas, his advisers reportedly told him to delete his Facebook page. At the same time Mr. Wells' Facebook page also vanished from the internet. While Mr. Wells used high privacy settings, until last week a limited version of his page was still available for all the world to see, with every update discussed and debated on the internet by avid Prince Harry fans.
Interesting, indeed.
And what's even more intriguing: Mr. Wells' profile noted that he was from Maun, Botswana, which we all know is a place that Prince Harry has not only visited countless times, but has spoken at length about having a true fondness for. He took Meghan Markle to Botswana for their third date, so clearly, he's got some personal ties to the place.
The Daily Telegraph also noted back in 2012 that Spike Wells' "profile image regularly changes, and has included pictures of a hedgehog, a lemur from the cartoon film series Madagascar, and even a red-headed child clutching their head under the comment 'Oh my God, I'm ginger.'" LOL to that last one, you guys.
But following the rules of royal protocol, it's strictly forbidden for royal family members like Prince Harry to manage their own social media. Even Meghan Markle had to delete all of her social media accounts, though she claimed it was because she was no longer active (but we all see through that lie, girl!). Dai Davies, a former head of royal protection for Scotland Yard, told The Daily Telegraph that any royal managing their own Facebook page is a big no-no for security purposes. He said:
From a security point of view I would never recommend anyone high-profile to have a Facebook account because, depending what you have on it, it is indicative sometimes of where you are going, what you are doing, and more importantly, who your friends are.
I completely understand why Prince Harry would make himself a secret Facebook page when he was younger, especially as a college kid. He probably just wanted to be like any other normal, average, non-royal student, you know?
And, while I'm *fairly* certain that Spike Wells is long gone, it's still worth digging through your old inbox to see if you ignored any messages from some rando with a hedgehog as his profile pic that could have actually been Prince Charming IRL.