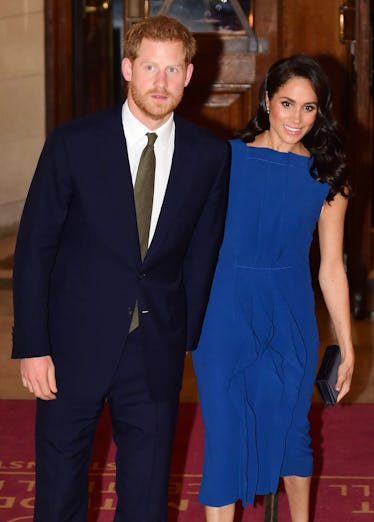 Prince Harry & Meghan Markle Got Real About One Thing They Hate About Being Royals
WPA Pool/Getty Images Entertainment/Getty Images
I spent a lot of time last spring thinking about what my life would be like as a royal. I was just so caught up in the May 19 nuptials of Prince Harry and Meghan Markle that I couldn't help but daydream about copping my own personal secretary and having an around-the-clock glam squad at my beck and call. I mean, how cool would that be? I have no idea whether the Duchess of Sussex actually makes use of either of these perks, but apparently there is a very real downside to royal marriage, and she and her husband are totally not here for it. Prince Harry and Meghan Markle's royal pet peeve has to do with the fact that the two of them are camera-shy, and not gonna lie, I totally get it. Who wants to constantly be photographed and filmed when you're out and about? That just sounds like a whole lot of unnecessary pressure, you know? I mean, all the attention would probably be kind of fun at first, but I can see how it would kind of get old real quick.
Anyhoo, according to Hello, Meghan and Harry copped to the royal disadvantage on Sept. 4, when they attended the WellChild Awards to celebrate and honor brave, seriously ill children across the UK. As part of the event, the couple sat down with a 4-year-old award winner named Mckenzie Brackley, and the three of them bonded over the fact that they don't like the spotlight.
"They were so lovely," Mckenzie's mom later told the publication. "They knew he was scared of the cameras and they said they didn't like the cameras either so they turned around. They said he was amazing and to keep going the way he is going and told him to look after me. He's never going to forget this, even though he's only 4."
Honestly, these two are everything!
This was the first WellChild event Meghan has attended, though Harry has been a part of the charity since 2007. He even gave a heartfelt speech at this year's annual event about how important the organization is to him, and then name-checked his wife while talking about how much he enjoys supporting charities alongside her.
"Every one of you is truly amazing," he began, addressing the room. "You have shown all of us what it means to be a champion — whether for yourself, your family, your community, or someone in need. For the past 40 years, WellChild has been identifying issues and finding long-lasting solutions so that families can care for and support their children at home in the very best possible way. I have been a patron of the organization for 11 years now, and this year I am especially grateful to be able to share the scope and magnitude of this work with my wife, who joins me here this evening."
Aww! Harry is total husband goals and seriously just seems like the sweetest human ever. Oh, and apparently, he also knows his way around a balloon animal:
Can you even imagine how great of a father this guy is going to be one day?
I know someone who would have been so proud.