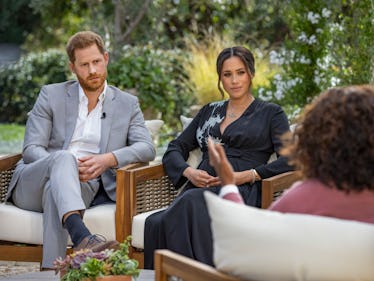 Harry & Meghan's Quotes About Royal Life Make It Sound So Toxic
Marrying a prince and living in a castle might seem like a total fairytale, but for Meghan Markle, it was everything but. In a two-hour sit-down interview with Oprah Winfrey, which aired on March 7, Meghan and Prince Harry made several shocking statements that exposed how painful their time as working members of the royal family really was. Prince Harry and Meghan Markle's quotes about royal life reveal a deeply unsettling reality that unmasked the roles that royal protocol and racism played in their decision to step away from their lives in the United Kingdom.
As Oprah teased before the interview aired, no topic was off limits. The Duke and Duchess of Sussex talked about everything from Meghan's first meeting with Queen Elizabeth II to how she got to the point where she "didn't want to be alive anymore." Harry touched on where his relationship with his family stands today, and how disappointed he was when his father, Prince Charles, stopped answering his phone calls as distance grew between the Sussexes and the rest of the family. Throughout the interview, Meghan and Harry were careful to make the distinction between the queen (whom Meghan said is "wonderful") and "the firm" — the royal family and their professional associates, including public relations specialists and lawyers. Among several other jaw-dropping pieces of information, they said the institution failed to protect them from the British press and denied Meghan help with her mental health when she asked for it. (CW: This story discusses suicidal ideation.)
Here's what else Meghan and Harry said about the truth behind royal life.