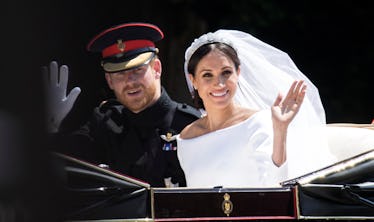 Meghan & Harry Will Appear On The Buckingham Palace Balcony Together & It's About Time
WPA Pool/Getty Images Entertainment/Getty Images
It's been a few weeks since my world was rocked by the fabulous pomp and circumstance surrounding the Royal Wedding, and I am just now starting to get over it all and move on. Or at least I was, until a little piece of major news came my way. And it is MAJOR, you guys! Prince Harry and Meghan Markle's Buckingham Palace balcony appearance is finally coming, and it's about freaking time!
The balcony is known for being the spot where royal couples make an appearance after tying the knot and give the public what they want — a big ol' wedding day smooch. The Duke and Duchess of Cambridge, Prince William and Kate Middleton, shared a romantic kiss on the balcony in 2011. Prince Charles and Princess Diana did the same in 1981, and so did Prince Andrew and Sarah Ferguson in 1986. But the Duke and Duchess of Sussex broke from tradition and skipped the whole balcony thing because their wedding took place in Windsor instead of London. Kind of a bummer, right? But now Harry and Meghan are finally set to appear on Buckingham Palace's balcony together to celebrate the Queen's 92nd birthday on June 9, according to a royal source, and I am so excited that I'm already counting down the minutes!
"There will be huge interest in seeing the newlyweds after the magic of their wedding," the source told the Daily Mirror. "The balcony appearance is the perfect symbol of how Meghan has been welcomed into the family."
I seriously cannot wait to catch a glimpse of these two up on that balcony! I mean, they have not been seen AT ALL since they showed up at a garden party at the Palace three days after their May 19 wedding to celebrate Prince Charles' 70th birthday, and I am going through major royal couple withdrawal! I mean, I know they're probably off R & R-ing it up on their honeymoon, so good on them. But I'd kind of like to see them again one of these days, and the Queen's birthday is as good a time as any, am I right? It's one of the most highly anticipated royal events, after all, commemorated by something called the Trooping the Colour.
So what is the Trooping? Is it like the reaping in The Hunger Games? Do I need to be worried? It's actually a tradition that dates back hundreds of years and involves a military parade where the Queen will inspect her personal troops. It always falls on the second Saturday in June, although the Queen's actual birthday is on April 21. As is tradition, the Royals will travel from Buckingham Palace to Horse Guards Parade in Whitehall and back again. Then they will stand on Buckingham Palace's balcony, where the Duke and Duchess of Sussex will make their first appearance together on the iconic spot.
Check out William and Kate (with Prince Harry!) during the 2015 Trooping:
What a smile! This was Kate's first public appearance after giving birth to Princess Charlotte of Cambridge, and she looks stunning! Charlotte made her own balcony debut the following year in 2016.
Aww... such a little munchkin! I love her little pink bow barrette, and the way she's snuggling up to Kate! By the next year, however, the little Princess was stealing the show with her big brother Prince George of Cambridge, as the two of them happily waved to the adoring crowds gathered below:
Cutest thing ever! Will the adorable tots be back on the balcony for a repeat performance on June 9? And will they be accompanied by their new baby bro, Prince Louis of Cambridge? Fingers crossed!