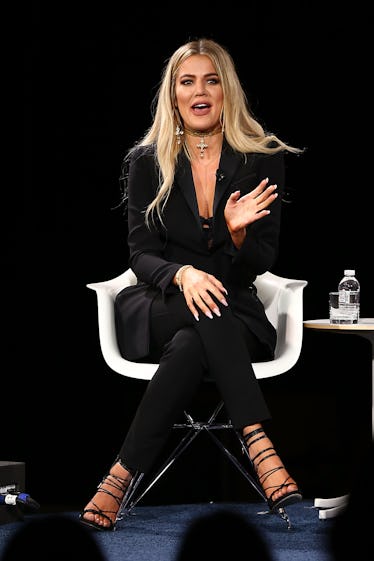 Khloé K Shared The 8 Beauty Products She Loves Using During Her Pregnancy
Joe Scarnici/Getty Images Entertainment/Getty Images
If a beauty product is good enough for pregnant Khloé Kardashian, then it's good enough for me. The mom-to-be recently snapped a few of her favorite essentials and you better believe I am taking notes. Khloé Kardashian's favorite beauty products are totally swoon-worthy, and a few are even weirdly affordable! If you have a bun in the oven or just love buns from the oven, these products are for you. (Ugh, I'm so sorry.)
By now, we have a pretty good amount of baby details. We know that Kardashian and her boyfriend Tristan Thompson are expecting sometime at the end of March or early April, and we've even been gifted with a few baby bump pictures. To add to our list of ongoing pregnancy details, we now know what Kardashian is using to pamper herself during this exciting time.
Based on one of the reality TV stars recent Snapchats, it looks like she is super big on skincare. Obvi. While you might expect the Kardashian family to go for the most expensive items they can find, a few of Khloé's picks are actually pretty reasonably priced for us commoners. Included on her list are items like micellar water, a fancy face mask, and straight up acne wash.
Ah, stars. They really are just like us.
Just kidding. No they're not.
Here are Khloé Kardashian's top eight beauty products, as displayed by KoKo herself.
1. Bioderma Micellar Water, $10.90 for 8.33 fl oz.
Dermstore says this little baby will "soothe and clear up irritated skin" using its special, vitamin E-enriched formula. It also sounds like a great option for sensitive skin. ***Raises hand***
2. La Mer Face Mask, $170 for 2.5 oz.
I'm not going to say that you can't afford this one, but I will say I can't afford this one. La Mer is a Kardashian brand favorite, and this potent mask promises to "energize, plump and protect skin." What a dream.
3. Charlotte's Magic Cream Treat & Transform Moisturizer, $100 for 1.7 oz.
I like the sound of "treat and transform!" Both a moisturizer and anti-aging cream, this tiny little tub packs a big, delicious punch. Ask your parents for money, then scoop it up at Nordstrom!
4. PanOxyl Acne Face Wash, $9.48 for 5.5 oz.
If you have chronic acne, this lifesaver can be picked up at your local drug store and is sure to put those tough breakouts on PAUSE.
5. Embryolisse 24-Hour Miracle Cream, $28.00 for 75 ml.
Can I pronounce it? Nope. Do I give one little F? Nope. If you take a peek, Birchbox says this product is a "cult classic" and also "a fave of French women." Seems legit to me.
6. La Mer Serum Essence, $630.00 for 1 oz. (Bye.)
Damn, Khloé. Just when I thought you could really help me and my skin out, you go and put this $630 product on your list. According to the serum's description, it promises a "new look of life day after day." Whatever that means.
7. Cosmedica Skincare Hyaluronic Acid Serum, $10.90 for 1 oz.
"Acid serum" sounds scary, but trusting Khloé Kardashian sounds smart. Cosmedica's serum plumps and revitalizes for a cheap deal, so we can all feel like Kris Jenner is our mom.
8. iS Clinical Active Serum, $65.02 for 0.5 oz.
That is a lot of money for not that much serum, but here we all are. Clearly, KoKo loves her serums. This one claims to improve "the appearance of aging, acne-prone and dull complexions."
All of these products are available online, or you can always give our girl Khloé a ring and see if she can scoop them up for you the next time she's out.
Thanks for the tips, girl. Happy baby growing!
Check out the entire Gen Why series and other videos on Facebook and the Bustle app across Apple TV, Roku, and Amazon Fire TV.