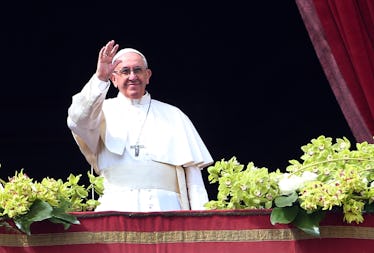 Pope Francis' Powerful Letter About Sexual Abuse Is Seriously Groundbreaking
Franco Origlia/Getty Images News/Getty Images
On Aug. 20, Pope Francis proved yet again that he's unlike any leader in Vatican history. The recent string of reports about alleged sexual abuse claims against Catholic church officials has truly rocked this community. However, Pope Francis' powerful letter about sexual abuse is stepping up and speaking out for those silenced. Elite Daily reached out to the Vatican for comment on the allegations, but did not immediately hear back.
On Monday, Aug. 20, the Vatican released a letter from Pope Francis directly addressing accusations of sexual abuse by priests which emerged in mid-August — the first time the Pope has spoken about the accusations since they surfaced. In the letter, Pope Francis condemned the abuse, saying that "no effort to beg pardon" would be enough, and that in the future the Church must spare no effort to prevent abuse. He also acknowledged the "suffering" the survivors and their families have been through and says that the Catholic community "did not act in a timely manner" in order to help the survivors of abuse. A part of the letter read,
Looking back to the past, no effort to beg pardon and to seek to repair the harm done will ever be sufficient. Looking ahead to the future, no effort must be spared to create a culture able to prevent such situations from happening, but also to prevent the possibility of their being covered up and perpetuated.
The letter continued,
With shame and repentance, we acknowledge as an ecclesial community that we were not where we should have been, that we did not act in a timely manner, realizing the magnitude and the gravity of the damage done to so many lives.
On Aug. 15, a grand jury report found that internal documents from six Catholic Pennsylvania dioceses found that more than 300 priests had been credibly accused of abusing more than 1,000 children, with alleged incidents dating back to 1947, per CNN. The report also alleged that instead of firing or otherwise blocking accused priests from working with children, the Church attempted to cover up the allegations, and in one case even recommended a priest accused of abuse for a job at Disney World. In a statement to the Associated Press, Vatican spokesperson Greg Burke called the abuse described in the report "betrayals of trust that robbed survivors of their dignity and their faith" and said that the "church must learn hard lessons from its past, and there should be accountability for both abusers and those who permitted abuse to occur." Burke declined to comment further to Elite Daily.
Pope Francis' open letter about these allegations is historic for a number of reasons. Not only is the Catholic leader addressing these accusations head on, but he's doing so publicly, acknowledging the Church's failing. This is quite a different approach compared to Pope Benedict XVI, who allegedly knew about cases of sexual abuse by priests, but didn't speak out. Pope Benedict XVI has publicly denied that he knew of any abuse.
At first, it was unclear whether charges would actually be brought forward to the abusers since the cases dated back to 1947. However, CNN reported on Aug. 15 that charges were brought against two priests in the Erie diocese and Greensburg diocese. So far, neither priest has responded to the charges. Following the charges, the grand jurors said that the sexual abuse investigation hasn't stopped, and they hope to see more charges filed in the future. The jurors wrote in a report on Aug. 14:
We learned of these abusers directly from their dioceses — which we hope is a sign that the church is finally changing its ways. And there may be more indictments in the future; investigation continues.
Pennsylvania Attorney General Josh Shapiro stated at a press conference on Aug. 14 that these allegations against the Pennsylvania dioceses mark the "largest" report of sexual abuse within the Catholic Church in United States history.
Not only is Pope Francis making it clear that he won't stand for abuse, but he's reaching out to those impacted and making it clear that they're not alone. Here's to hoping we see more people follow Pope Francis' example, and speak up when injustices surface.