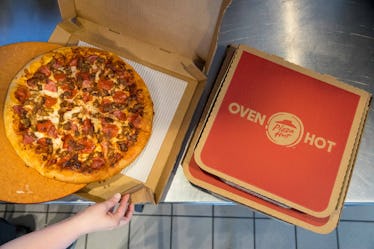 Pizza Hut's Giving Tuesday Promotion Is A Delicious Way To Give Back On Nov. 27
Shannon O'Hara/Getty Images Entertainment/Getty Images
Now that Thanksgiving has come and gone, it's that time of year when organizations encourage you to give back to those in need. Giving Tuesday, which follows Black Friday and Cyber Monday, is one of the biggest charitable pushes of the year. Most major companies and organizations get in on the philanthropic day by offering incentives for you to donate — or make a purchase — that can make a difference in the lives of others in need. This year, Pizza Hut's First Book Bundle for Giving Tuesday helps give education to kids in need. It's a really simple way for you to enjoy a delicious meal while making a significant impact.
If you're wondering what pizza and giving back to others has to do with one another, allow me to explain. First, you should know that Giving Tuesday takes place on Tuesday, Nov. 27 this year. As a part of Giving Tuesday, Pizza Hut is selling a First Book Bundle that's going to fill your stomach (and heart) up with food (and joy). The assortment includes two large three-topping pizzas and one order of breadsticks starting at $20.99, according to Pizza Hut. The chain pizza restaurant will donate $1 from every First Book Bundle sold to benefit childhood literacy. You were probably going to order pizza for dinner anyway, right? I know I plan on it. Might as well make it the First Book Bundle from Pizza Hut. Now you can give back and eat a delicious meal. I'd call this a win-win for everyone.
Pizza Hut is not limiting this offer to Giving Tuesday. Instead, the fast-casual pizza shop is extending the offer for the entire holiday season. You'll be able to order the First Book Bundle from now until Monday, Dec. 31 to benefit childhood education for students who need it most, per a press release from Pizza Hut.
So, what's with the name First Book? That's the title of the nonprofit organization that Pizza Hut has partnered with for Giving Tuesday 2018. First Book's mission is to provide equal access to quality education for kids in need. It is something the organization has striven to do since it was formed in 1992 (long before Giving Tuesday was conceptualized in 2012). Throughout its 26-year existence, First Book has given out over 175 million books and educational resources to academic programs and schools that benefit children from low-income families in over 30 countries, according to the organization's website. Your First Book Bundle purchase from Pizza Hut can help the organization continue its generous mission of providing quality education to underprivileged kids.
Giving Tuesday, which is now in its seventh year, focuses on giving back to others after big shopping events like Black Friday and Cyber Monday. The annual day of giving is powered by social media efforts using the hashtag #Giving Tuesday and is now in its seventh year. In 2017, roughly $274 million was raised during Giving Tuesday in the U.S. alone, according to the Philanthropy News Digest. It just goes to show that every little bit makes a difference. If you're looking for plans any time this season, I suggest inviting your friends over to catch up on Netflix and ordering a First Book Bundle from Pizza Hut.