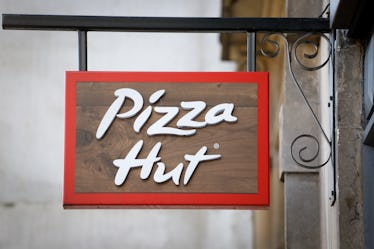 Pizza Hut Brought Your Favorite Pie Back & It's A Cheese Lover's Dream Come True
Matt Cardy/Getty Images News/Getty Images
There was nothing better than a family trip to Pizza Hut while I was growing up. I distinctly remember splitting breadsticks with my sister and taking multiple trips to the all-you-can-eat lunch buffet whenever we ate there (it was glorious). I still make Pizza Hut stops whenever I can — but now that my favorite pie is back on the menu, I'll be visiting a lot more than usual. That's right: Pizza Hut's Cheesy Bites Pizza is back, and I'm already craving the gooey delicacy that I know and love. Once you realize what you've been missing out on for more than a decade, your mouth will be watering, too.
Pizza Hut first released its Cheesy Bites Pizza for a limited time in 2006, according to Chew Boom. I distinctly remember sharing a pie or two with my family and friends back in the day, and it certainly made dinnertime delicious. Luckily, Pizza Hut brought the dish back for a limited time on Monday, July 16 — and I can't wait to dive back in. If you're having trouble remembering what the Cheesy Bites Pizza actually is, allow me to jog your memory. (I'm sorry in advance if you're reading this on an empty stomach.)
Pizza Hut's Cheesy Bites Pizza isn't your average pie. Instead, the crust is replaced with 28 warm, cheese-filled "poppable bites," per a press release. The gooey bites surround a large, eight-slice pizza that can come with a variety of toppings offered at the restaurant, according to Pizza Hut's ordering page. It's basically the dinner of your dreams if you're planning on splitting a meal with your family or friends, because everyone can take a few cheese bites along with their slice. (But if you'd rather order an entire pie for yourself, I'm totally not judging.)
One main difference between the Cheesy Bites Pizza in 2018 versus the pie that was released in 2006 is the price. My local Pizza Hut offers the pie for $13.99 without tax (sans extra toppings), while the OG Cheesy Bites Pizza sold for $11.99, per Chew Boom. To be honest, I think a few extra dollars is totally worth the cheesy dish, so go ahead and splurge a little.
It's not clear how long the Cheesy Bites Pizza will be available at Pizza Hut this time around, but I'm hoping it'll last at least a few weeks. Elite Daily reached out to inquire about a timeline for the menu item, but did not hear back at the time of publication.
Believe it or not, this isn't the first new pie Pizza Hut has welcomed onto its menu in the past year. In April 2018, the company released a cheesy creation in honor of its 60th birthday, and it was definitely celebration-worthy. The limited-edition pie was called the Double Cheesy Crust Pan Pizza, and it was a gooey combination of Pizza Hut's Stuffed Crust and Original Pan Pizza. To make the pie possible, cheese was baked into the pizza's crust, which was then topped with a toasted layer of parmesan. Now, I'm getting really hungry.
If your stomach is growling, too, make sure you head to the Hut and try the Cheesy Bites Pizza while it's still available. I know I'm going to.