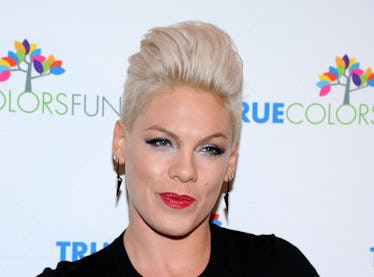 Pink Shut Down A Twitter Troll In The Best Way & I'm Living For It
Ilya S. Savenok/Getty Images Entertainment/Getty Images
Pink is not letting anyone get her down about how she looks. Not even a Twitter troll. The 38-year-old singer took to social media on Wednesday, May 16, to make sure the world knows just how great she feels about herself. And let me tell you, it was pretty wild. Yes, you read that right. Pink shut down a Twitter troll and I can't think of a better way she could have done it.
So, here's how it went down. Basically, a feisty Twitter troll took to the social media platform to express their disappointment in Pink's current look. "Wow Pink looks so old that should be named Purple instead," the Twitter user said.
Sounds pretty harsh, right? It doesn't even really make sense. But Pink wasn't having any of that. Not for one second. In no time at all, Pink was all over Twitter talking about how she wouldn't ever be shamed for aging and living well.
Here's some of what she had to say:
You must be from LA. Well, there are a few people left in the world that choose to age naturally. And I've earned every f**king minute of my 38 years. How you lookin' though? Cause I never heard of ya til you put my name in your mouth. I shall call you little purple troll.
Wow, Pink really took a jab at them! Rightfully so, because the singer is looking better than ever. She's most definitely earned the right to age naturally. And she's doing it very gracefully, too.
In addition to saying that she wants to age naturally, Pink also explained that she considers it a mark of good fortune to be able to get older:
I am of the mindset that it's a blessing to grow old. That if your face has lines around your eyes and mouth it means you've laughed a lot. I pray I look older in 10 years, 'cause that will mean I'm alive.
That is actually so profound and so, so true. Check out Pink's tweets for yourself:
The singer is definitely passionate about making her voice heard. And she's been doing it a long time. She's never been shy about voicing her opinions, especially as they relate to how the world perceives women.
Back in 2017, Pink received MTV's Michael Jackson Video Vanguard Award and made sure her acceptance speech was empowering. In it, she told a story about her daughter calling herself "the ugliest girl in school" and how much she related to her daughter being outcast:
They say that I look like a boy or I am too masculine, too many opinions, my body is too strong ... do you see me changing the way I present myself to the world? 'No, mama.' Do you see me selling out arenas around the world? 'Yes, mama.' ... So baby girl, we don't change.
So beautiful! Here's a video of her speech from that night:
If that's not enough to make Pink your body positivity hero, then perhaps her words from a few years ago might. In 2015, Pink wore a beautiful dress to the John Wayne 30th Annual Odyssey ball, but she was criticized for how she looked. Her response? Well, she doubled down on how beautiful she felt, no matter what her Twitter critics said:
While I admit that that dress didn't photograph as well as it did in my kitchen, I will also admit that I felt very pretty. I am perfectly fine, perfectly happy, and my healthy, voluptuous, and crazy strong body is having some much deserved time off.
Pink is an inspiration, for sure. How can you not love her?