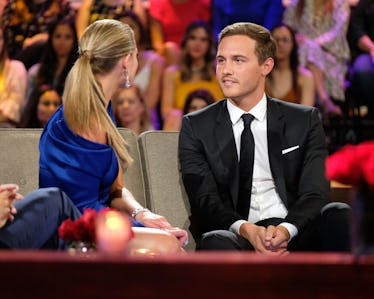 Pilot Pete's Zodiac Sign Says He's The Kind Of Partner You Want To Land
If you're a member of Bachelor Nation, chances are you've already heard the rumors that Peter Weber, aka "Pilot Pete," is a frontrunner to become the next Bachelor lead. And while Tyler C. may have been the supreme babe of the season, I honestly couldn't think of a better pick for Bachelor than Pete. He's got the look, the sweet guy-next-door charm, and he can fly a freaking airplane. The cherry on top? What Pilot Pete's zodiac sign says about what he's like in a relationship, because this TBH, this fire sign is smoking hot.
Pete was born Aug. 4, under the sign of Leo. If you've ever loved a Leo, you already know that this warm-hearted and generous sign makes for an excellent partner. They are extremely charming and a joy to be around. They can sometimes be a bit self-centered, as they're infamous for craving attention, but when they turn their romantic focus onto you, it can be hard not to get caught up and bask in the warmth of their glow. Needless to say, if Pete does get the call to take on the Bachelor title, the competition for his heart is going to be fierce.
Here's what we can divine about what being with Pete would be like for whatever lucky lady gets the final rose, based on his zodiac sign.